Friday, November 28, 2008
Wednesday, November 05, 2008
DAY – I (October 25 '08, Saturday)
We had initial plans to leave Delhi by 2 PM. The bike was not serviced, there was an oil lick from the engine, and so need to change the packing, the engine oil to be changed and the racer was loosen. And I had lots of work pending in office coz Diwali holidays. So Om dropped me in office at 10 AM and went straight to CBZ (castrol bike zone), Okhla. But he informed me that he will get the bike at 1 PM.
And finally we started from Delhi at
4.15 PM
.
Let's go…
Got the tank full at Hauz-Khas. There was heavy traffic because of diwali weekend. And it took more than 1 hour to cross outer ring road. Reached Meerut by-pass at 7.00 PM.
Took a half an hour break there for snax and then headed non stop for Hardwar. The road condition is very bad as the construction work is going on. I found no progress in last 6 months; the condition was same as before. I was desperate to cross these 200 kms stretch from Delhi to Hardwar so that I can enter in the hills. Reached
Hardwar at 11.00 PM
, checked in a hotel and went out for dinner.
In the hotel we met
Adv. R. K. Sharma from Gurgaon
, in his 50's who was on his scooter on the way to Chopta for trekking. He was really an inspiring guy and is mad for The Mighty Himalayas. And the best part is, he used to do most of his trips on bikes/scooters. There was 2 hour long interaction with him after dinner. He has a very good knowledge about the Garwal Hills. And he also trekked a lot in those regions. Got some very good info from him. We had same route till Chamoli.
So we decided to ride together starting at
5.30 AM
in the next morning.
Route - Delhi-Meerut-Hardwar
Kms Covered - 230 Kms

DAY – II (October 26 '08, Sunday)
Delayed by one hour as per the plan and hit the road at
6.30 AM
. It was going to be a goodday as I need to cover
350+ kms
in hills same day to reach Badrinath, 3 kms before the end of the
NH-58
. Adv. R. K. Sharma also started with us. We headed towards
Rishikesh
. But after some 10 kms I noticed that Mr. Sharma's Eterno is running with low air in rear tyre. So stopped immediately and found a nail, but as there was enough pressure so we rode till Rishikesh. He got his
flat tyre
fixed and we got cash from ATM and finished up our breakfast. It was about 8.30 AM when we started from Rishikesh. The road was in very bad condition (first 20 kms, and we were unaware of it that good roads are ahead), and it was very disappointing. We were crawling at
15-20 kmph
.
The bad patch...
The work was in progress. But the butter smooth road was waiting for us along with river Ganga. So we ripped little fast and stopped at this place for Mr. Sharma and took some photographs.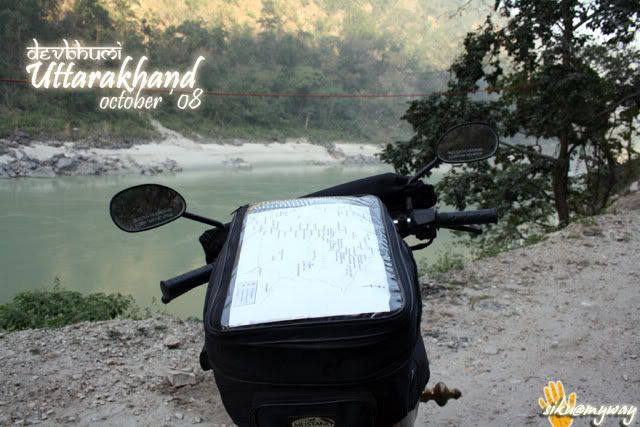 Awesome roads and superb twisties and frightening cliff roads, those were really delight to ride. The next stop was Devprayag. Reached there at 10.30 AM. River ganga starts from here after the sangam of river Alaknanda and Bhagirathi. You can see the two different colours of water getting in to one.
Sangam...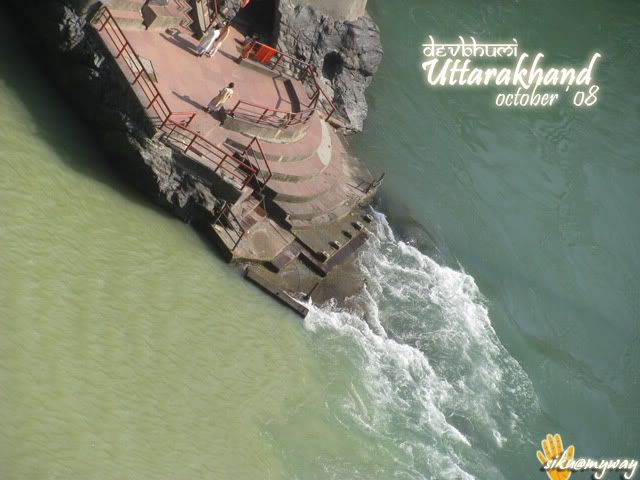 Mr. Sharma, Om n Mr. Sharma's friend (L to R)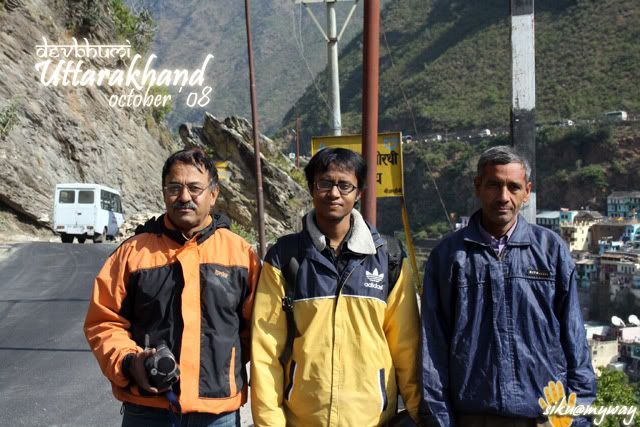 Some pics on the way…
After this we decided to ride fast, as we had to reach
Joshimath by 4.30 PM
. As we had the idea that the last gate for Badrinath is closed at 4.30 PM. But still we decided to meet Mr. Sharma at Chamoli and we will stop there for our lunch. We raved saying him bye. The overall road is in its good condition and the mountain cliffs are little scary than the Himachal. Crossed Srinagar on the way. And I loved the road between Srinagar to Rudraprayag. You will get a variety of mountain roads passing thru villages, scary cliffs, few good hair-pin bends and a few stretch of snake curves to RIP….
We dint took any photo breaks in this day and most of the pics are clicked during ride.
We were exchanging rider in every 60-80 kms and it was really fruitful this time.
And we felt very relaxed by this.And then we reached
Nandaprayag at 2.30 PM
. And by that time we were damn hungry. So decided to have our lunch break and we were also getting late. So finished up our lunch in 15 mins and headed for Joshimath.
@ nandaprayag...
Reached Joshi
math at 5.30 PM
. We were late by one hour. And the real journey started from here and we were unaware of the surprises waiting for us on that day.The police personnel there at the gate told us that the road is in good condition and we can cover the stretch of
45-50 kms
from Joshimath to Badrinath in max 1.5 hours. It was getting dark by then and we were in a confuse state coz we decided in the starting of the trip that we are not going to do any night ride in the hills this time. Asked some local people and they suggested not to go in that road during night as there are some steep roads and we will not get a single vehicle enroute. But still after a lot of confusions in mind we decided to make a night ride again. And we decided to stay at Badrinath. The road was in it's worst condition with big boulders everywhere and it started some 10 kms after. We were expecting good roads ahead.It was almost completely dary by 6.30 PM, we crossed a small market area (2-3 shops) and after 5-6 kms we got a
flat tyre
.
OMG, the most unexpected thing happened in the middle of no where. Tough we had the whole puncture repair kit, but nothing was striking in the mind. It was completely dark and some lights were visible nearly a kilometer away so we pushed the bike there and it was Jaypee group hydro power project. But there was no facilities available rather than lights. That place was 17 kms before Badrinath.I first attempted to fill air so that I can ride some more kilometers but it was in vain. The tyre was unable to keep some pressure. So finally decided to fix the flat tyre there coz the nearest puncture repair shop was 40 kms before and there was no facilities at Badrinath. Just then a tata sumo came and it was heading towards Badrinath and we decided to leave the bike there and headed for Badrinath with sumowala thinking in mind that we will fix the tyre next day after Darshan. It was also that sumowala's advice not to ride in that route in two wheels. And finally reached at
Badrinath at 9.00 PM
.It was very cold there, and suppose to be sub-zero temperature. Most of the hotels were closed as there were few days left for the closing of the temple. No body lives there for winter six months. With the help of the sumowala we got a room and ended that day's adventure there…
Route – Hardwar-Rishikesh- Devprayag-Srinagar-Rudraprayag-Karnaprayag-Nandaprayag-Chamoli-Pipalkoti-Joshimath-BadrinathKms Covered – 346 Kms
DAY – III (October 27 '08, Monday)
After a night in the freezer(temperature there was quite low), there was no chance to wake early. But still I din't get a decent sleep coz my bike was there alone in the unknown land. I was really tensed for that, the other tension was to fix the bike. Still by
7.00 AM
I was out of the room. And what I found was a snow cladded mountain peak when I open the door…. The temp during night was most probably sub zero because I was seeing a thick layer of ice on the still water outside the room.
The first glimpse…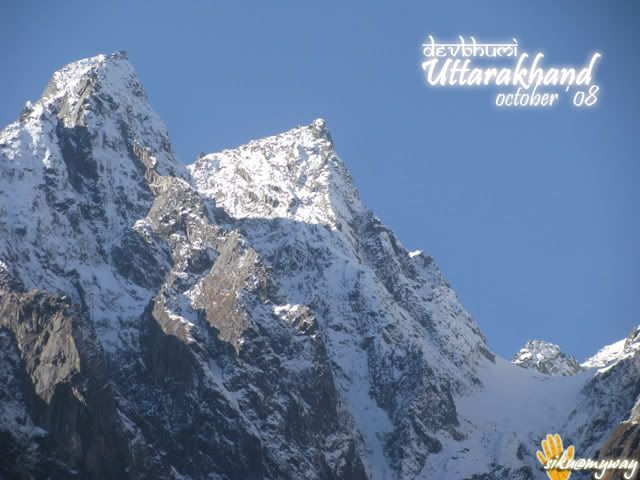 Got ready to go to
Shree Barinath Temple
by
8.30 AM
and walked towards temple. Took a bath at
Tapta Kund
, the natural hot water pool there. And by 11.30 AM we completed our darshan.
Shree Badrinath Temple…
Neelkanth again…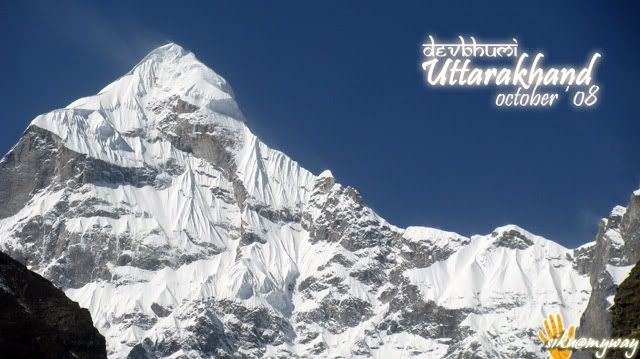 Then as per the previous plans we had to head for
Mana Village
. The last village of India on Tibet side. It was only 3 kms away. But as the temple was to be closed for 6 months just after 10-15 days so din't got any vehicle which could take us to Mana. During this we did our breakfast and decided to walk for the 3 kms. It was
12.15 PM
then.
After walking nearly ¾ kilometer, we thought that it's better to return otherwise we'll loose another day. So returned back to Badrinath and now there was another problem waiting for us.There was not a single vehicle towards Joshimath. We requested some tourist vehicles to drop us 17 kms down as our bike is there but all in vain, nobody agreed. After nearly long 2 hours Om managed to convince a tempo traveler from Hardwar. It was such a big relief after 2 hours, Oh God.
And finally reached at
Jaypee at 3.15 PM
, where our bike was standing. Now we had to fix the flat ourselves and it was going to be my first attempt.We carried the whole puncture repair kit with a small foot pump and of course 2 spare tubes. The mistake I did was I was suppose to change the rear tyre which was going little bald after doing some 20000 kilometers. So I started working and then the guard there came and asked me are you a mechanic? I replied yes… . The whole process took nearly one hour. I replaced the old tube with a new one and found a iron nail which was the reason behind the whole process . Then repaired the old tube so that I can use it if I get a flat again. Anyways it was another experience fixing the flat. And now 'm confident in fixing a flat tyre quicker .
The fixing…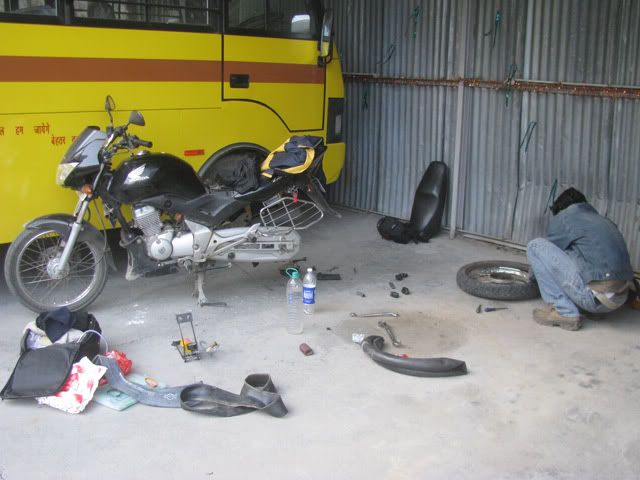 Now what next!!!
It was
4.00 PM
. The first thing in mind was to ride again till Mana. We actually dint want to miss that spot as well as missing to complete
NH-58 by only 20 Kms
. But after a lot of confusions in mind and consulting with Om, we decided to wrap our trip from there and
back to Delhi ASAP
. And now onwards strictly no night ride in Hills (but how is it possible . you will come to know about this after reading the full story.).So we had 1 hour to ride and Joshimath was decided to be the Night halt place. We reached
Joshimath at 5.15 PM
after covering some 40 Kms.
Some images (on the way to Joshimath)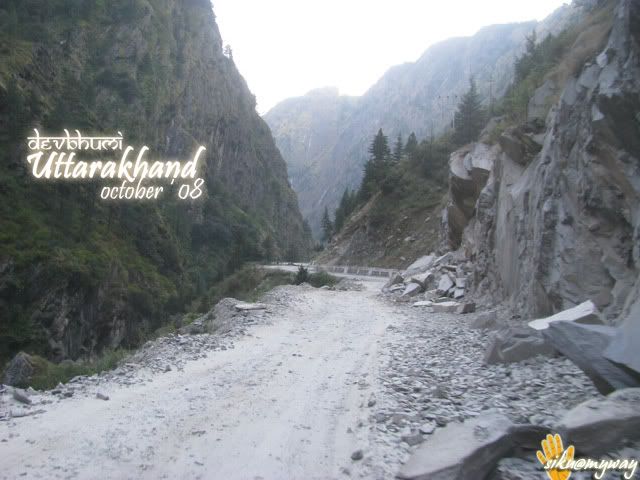 A terrifying road connecting somewhere…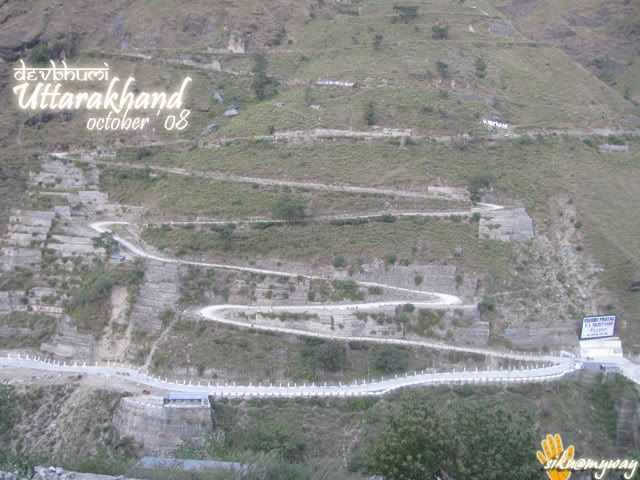 But we dint want to stay there,
Auli
was seeming interesting some
14 Kms up
and it was still bright. And again after little confusion we
decided to ride to Auli
.
Road to Auli…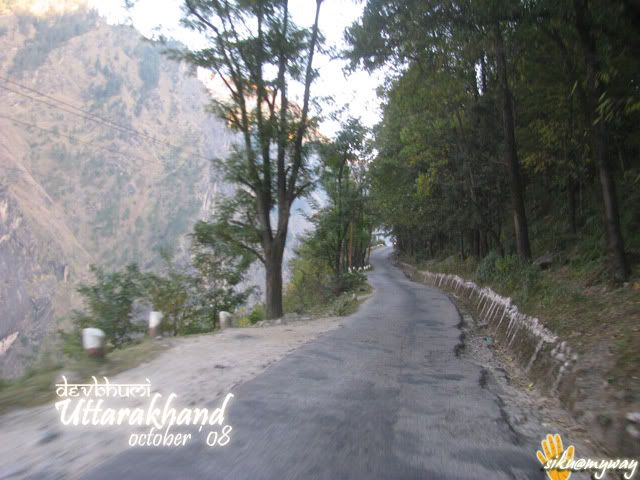 Golden snow peak…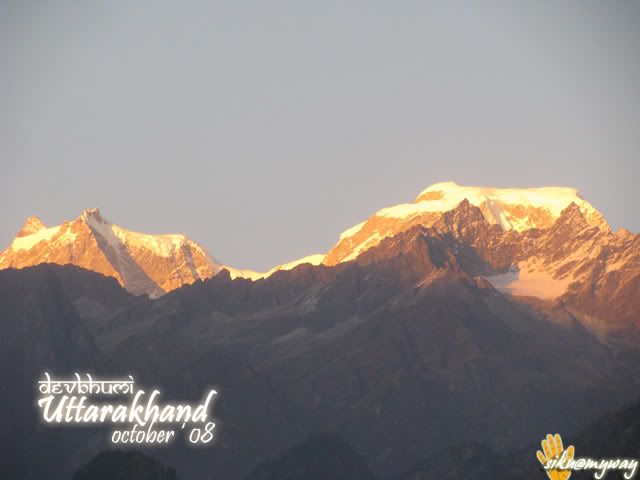 Another
horrible ride
was waiting for us. After some 8-10 kms it became dark. The road was overall good. And we came to know that there is only one hotel there known as
'Cliff Top'
. And I thought it is a GMVN hotel as I read about it somewhere many days before. The black tarmac ended at a STD booth showing
6.30 PM
in our watch. And we asked for 'Cliff Top', the guy there showed his finger towards the darkest side. I got a shock finding nothing after lighting the area with both of my beams. Giving a shock again the guy told
'it is 3.5 kms above'
. That patch was really the worst I rode ever before. You have to find your own way in the gravels. It was really horrible. Struggling for nearly 1 hour we reached at the top with a very beautiful spot. The sky was very very clear and I was seeing so many stars together after a very long time.....
But another exciting story starts from here.
DAY – IV (28th ) (Saturday) (Diwali)
Auli is a beautiful place. When I came out of the room at 7 in the morning I was seeing snow cladded mountain peaks all around. It was very very pleasing. The shadows of the clouds on the mountains were creating a very dramatic effect. After seeing all these we decided to explorer the place a little. Got ready by 8.00 AM and met a person who was the in charge of the construction of the helipad at the top. And he told that the view from the Auli top is superb. And there is a facility of cable chair cars to the top from the GMNV guest house. And we have to trek for about 1 kilometer to reach the top. But the cable car service was to be started at 9 AM. So waited for it and captured some images exploring the place.
AULI…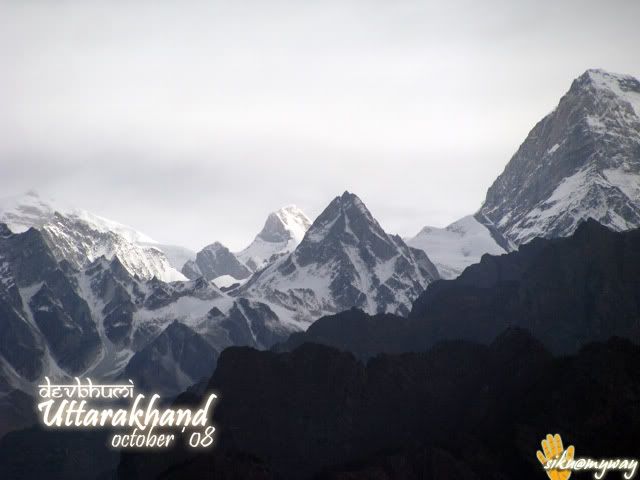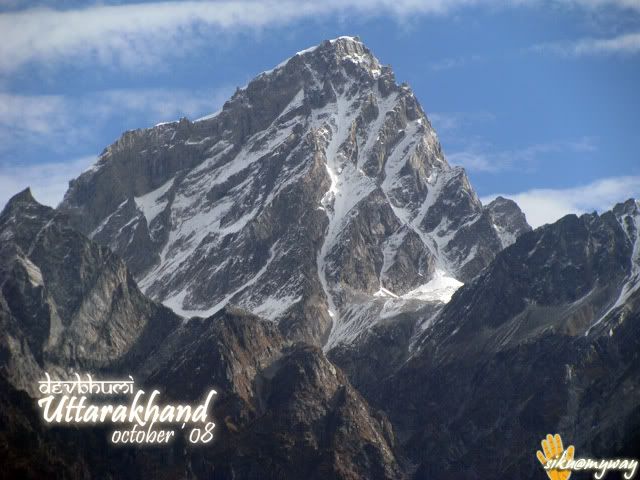 The cable car that runs from Joshimath to Auli…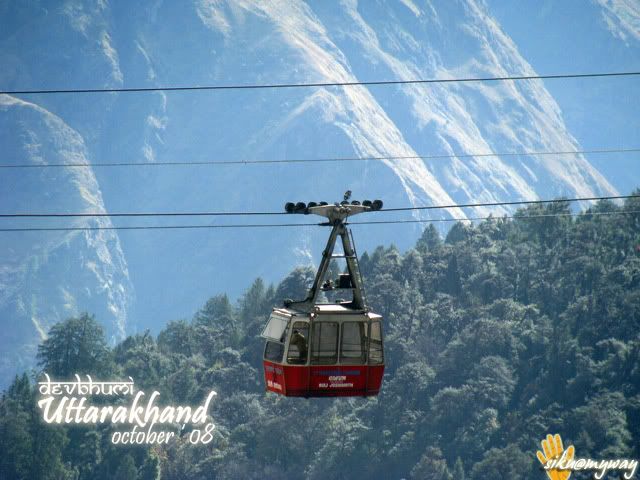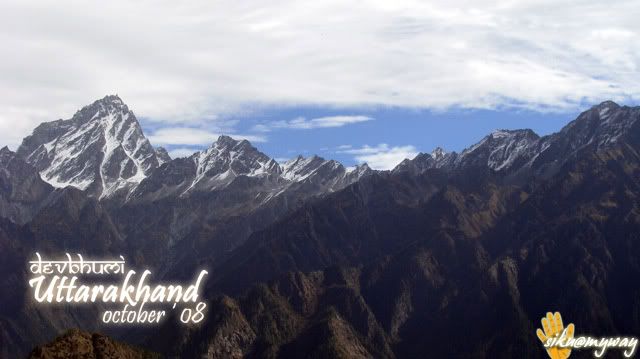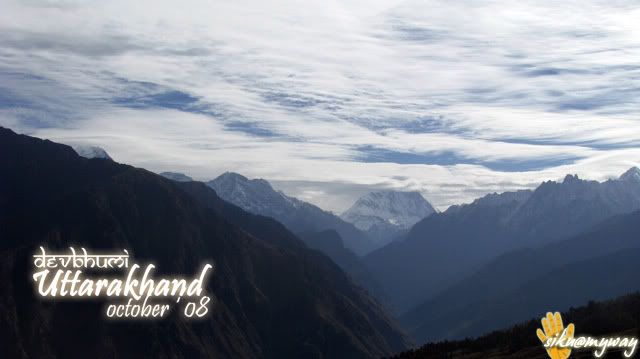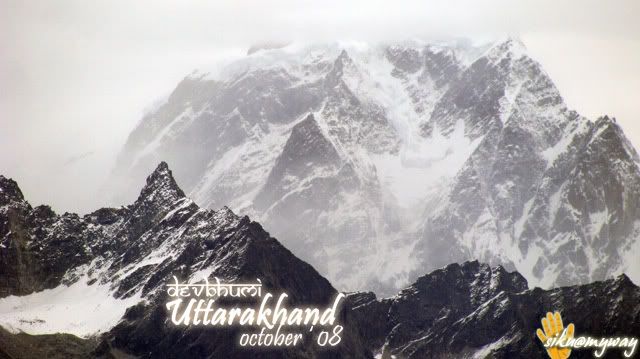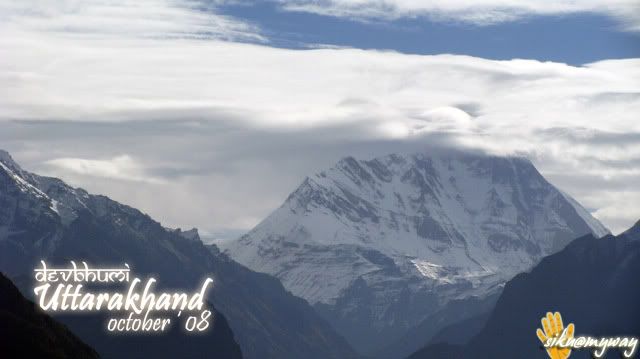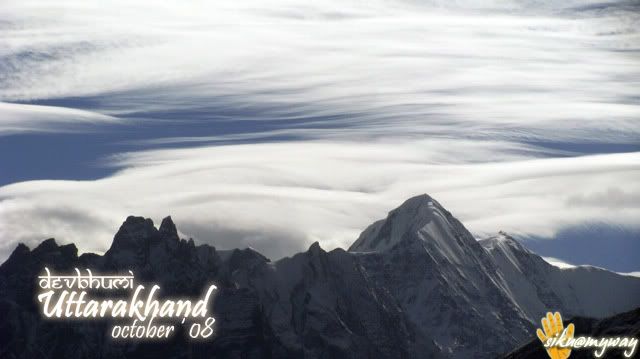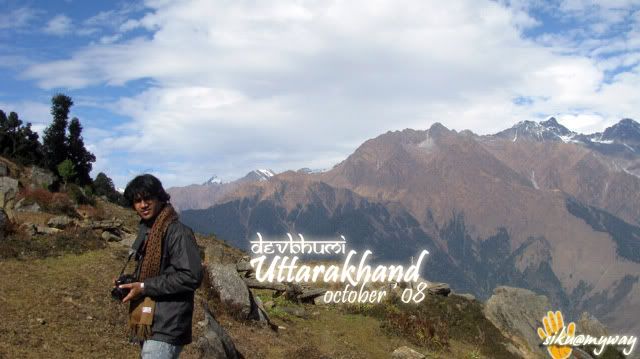 some day i'll explore these unknown routes, these are looking so good!!!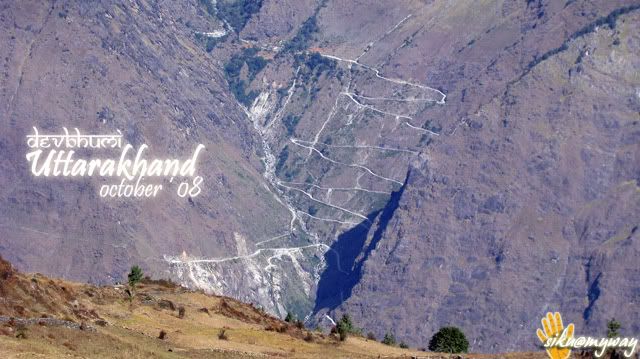 The experience in the cable car was little scary because of the barren land below. The work was in progress in making gentle slopes for skiing. 10 minutess in cable car and nearly 30-40 minutes trek to the top, it was worth it. I was standing and seeing the snow peaks at my eye level only. The whole 360 degree view was beautiful. The most interesting part was the sky. It was changing its texture in every 15-20 minutes. It was a great experience capturing. Nandadevi peak was also visible. We spent good two hours there enjoying and capturing the nature.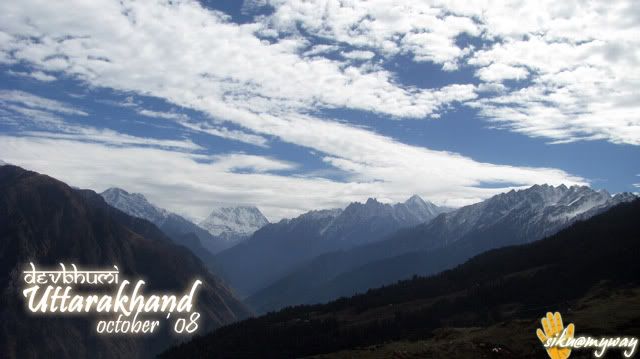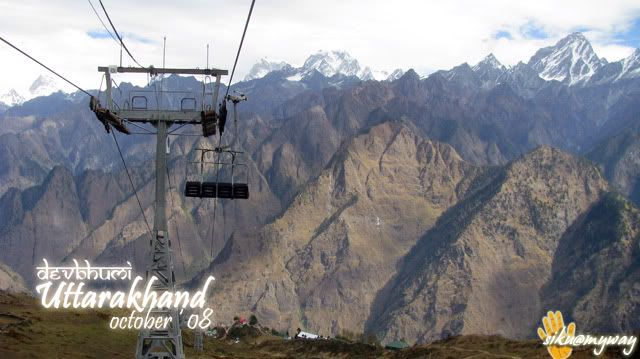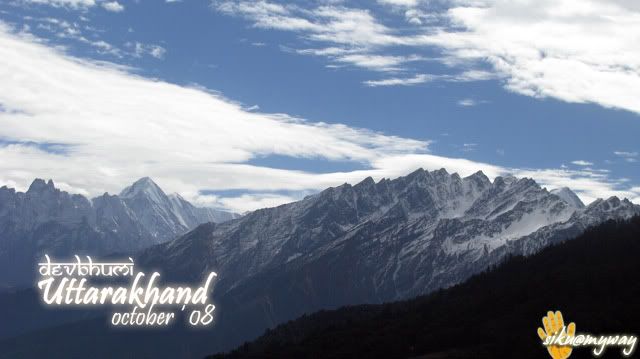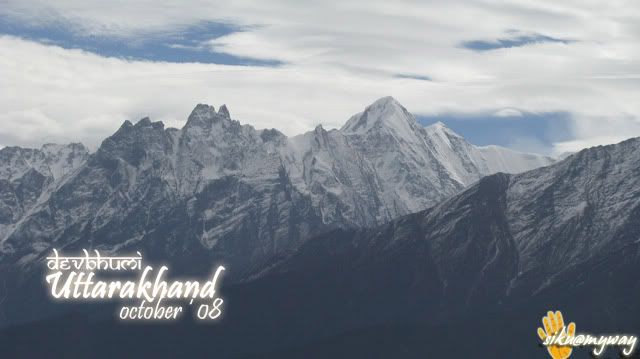 The Chair car that runs from Auli GMVN guest house to hill top…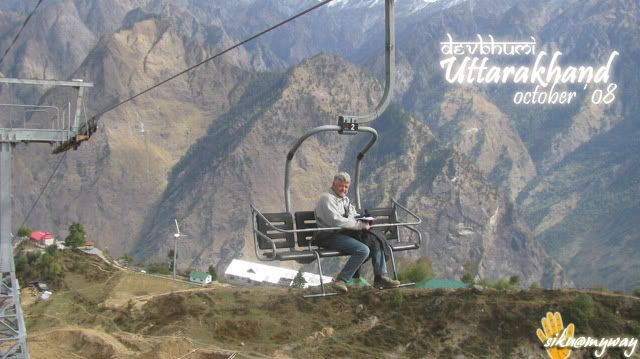 Me n Om…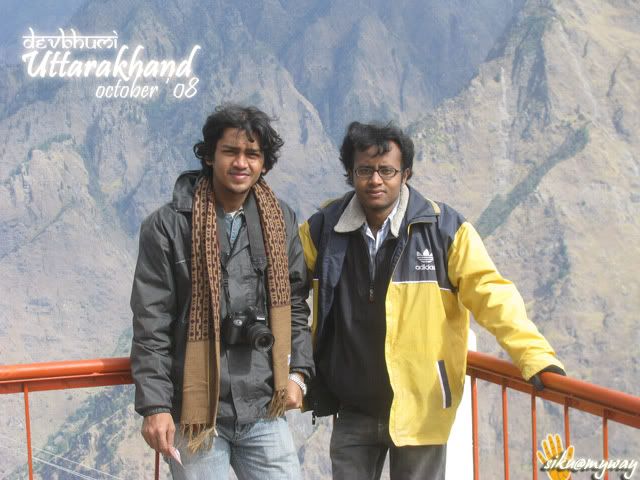 Returned to the guest house by 12 o'clock. Now it's tome to rush and we need to cover 300+ kilometers to reach Rishikesh. And we had total 6 hours in hand as we decided no night rides again
(but how both the things are possible :O). It was impossible to cover 300+ kms in hills in 6 hours. But still we decided to ride till Devprayag if the time permits. After doing a very quick breakfast we walked down to our bike and started and I was feeling very uncomforted to ride with out Gloves (I lost them the day before
).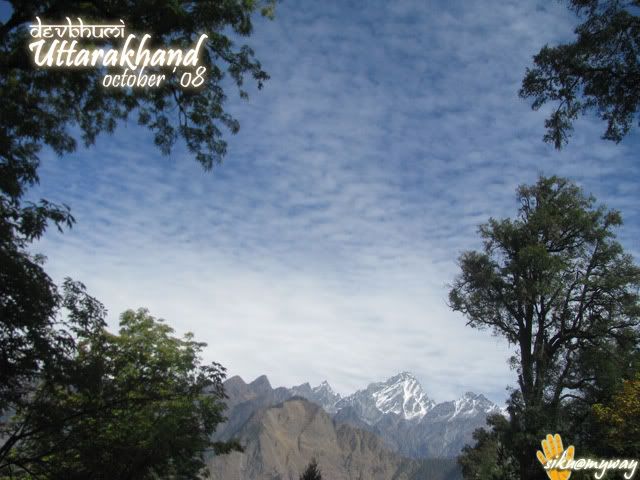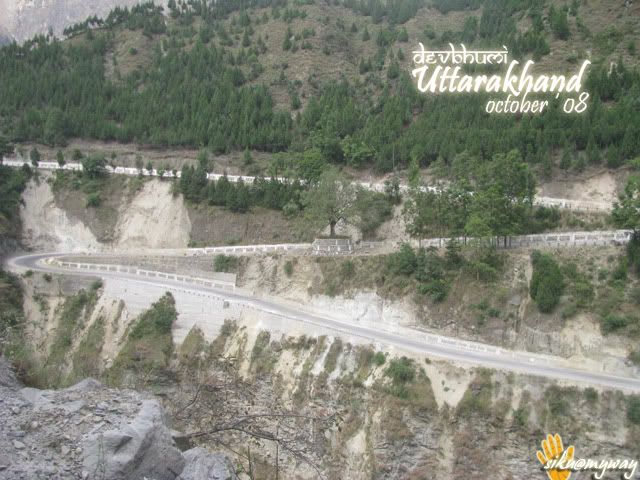 We tried to ride faster and reached
Rudraprayag by 2.00 PM
. And we were hungry and it was also impossible to ride till Devprayag in 4 hours so decided to have lunch there. We were standing at a Y point and were searching for a place to have our food. Just then Om pointed towards a signboard showing
'Kedarnath-130 Kms'
.
Me: 'What?'
Om: can't you see the sign board?
Me: Yes, but what? (I was guessing something)
Om: what about riding there!
Me: You mad or what?
Om: Listen, it's impossible to reach Rishikesh today and if we will reach Delhi by tomorrow evening still there will be a day left. So why not to use that day!!!
Me: But we have no spare tube and we also never querried about the route?
Om: Jo hoga dekhajeyega…
Me: No, we cant take the risk this time, the tyre is little bald too. (But I was seeing some more fun in the Hills)
Om: OK, then lets try some 10 kms and then we can decide to go or not.
Me: OK, done. Let's go for it.
And this decision to ride till Badrinath gifted me another adventurous ride…
Coming to it soon…
We decided to ride till Gopeswar, some 10-12 kms away. And we enquired about the road condition and the response was positive. The roads were narrow but welcoming. I was loving the beauty all around and the ride along with the stiff cliffs. I was enjoying the loneliness in the mountains as there were very less (almost none) traffic all around (later it became a nightmare… the loneliness
).
We were running short of cash and dint wanted to take a chance unlike the day before at Auli….
. and the Uni was also thirsty. So got cash from SBI ATM at Gopeswar and got the tank full there. And I really don't remember any ATM in my next 250-270 kms ride till Devprayag.
An adventurous ride started from here. After some kilometers we felt that we are going thru jungle and it was continued till
Chopta
for some25 kms. The trekking route for Tunganath starts fron Chopta. So there were 1-2 dhabas there. After Chopta we also got some 25+ kms of the jungle route and this 50+ kms ride was the best part of my Uttarakhand Ride. The ride was really adventurous. We dint find a single person in these 25 kms. And the ride thru the jungle was little scary and I was scared of getting a flat tyre. Later we came to know that there were really some animals in that Jungle.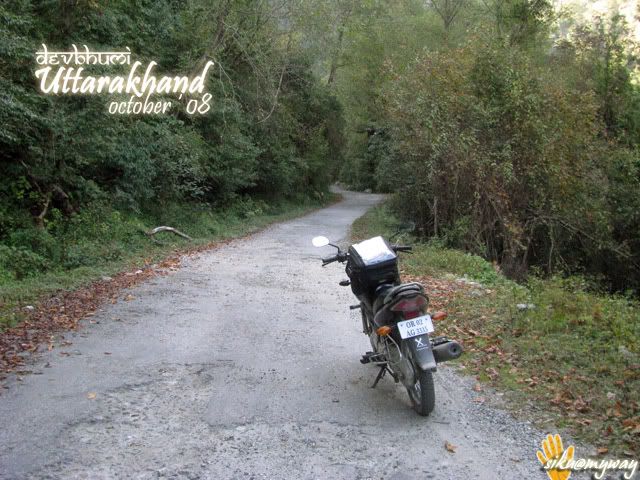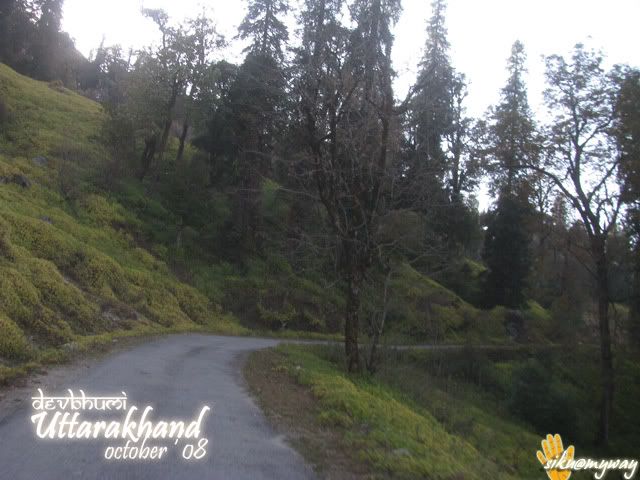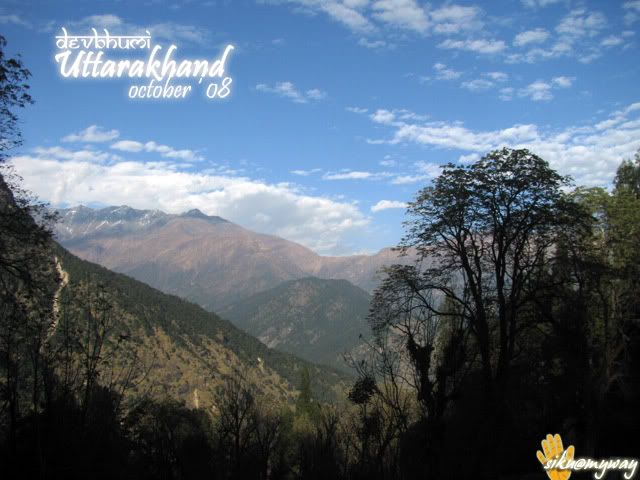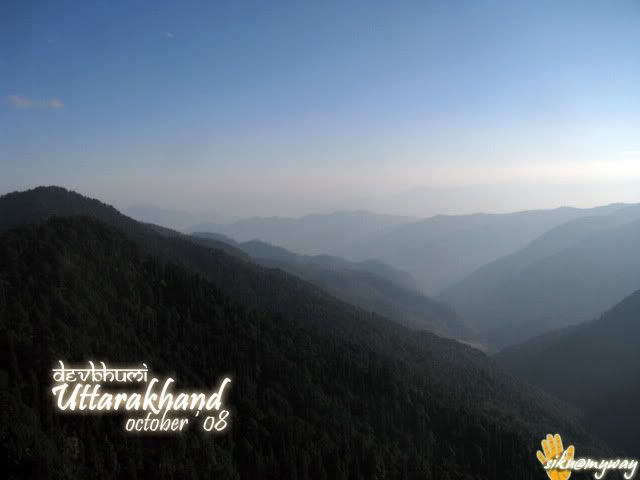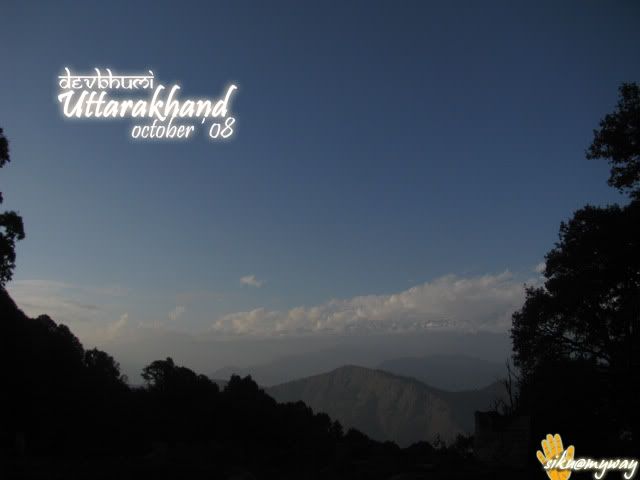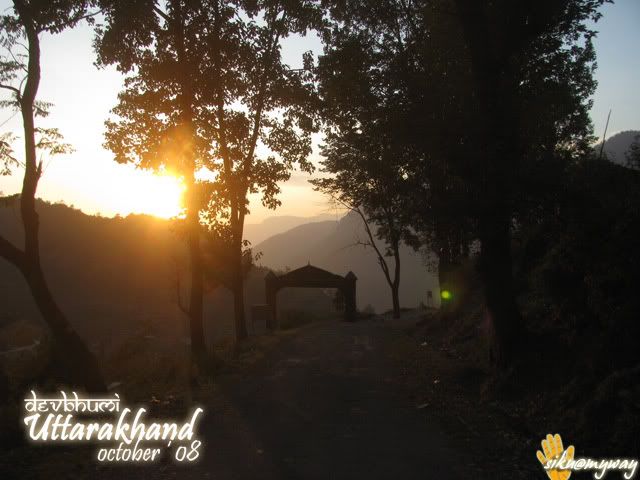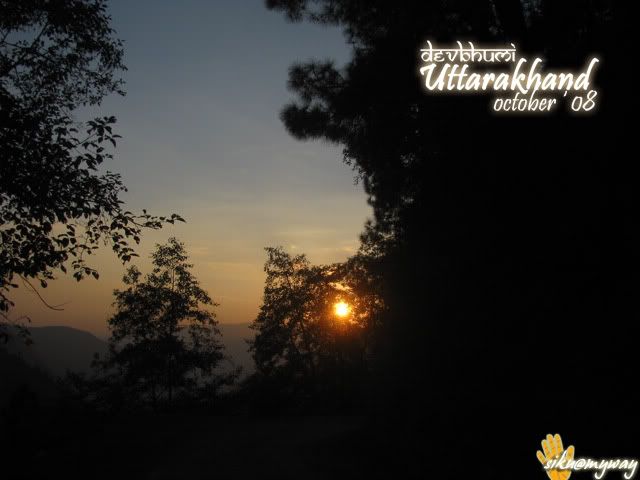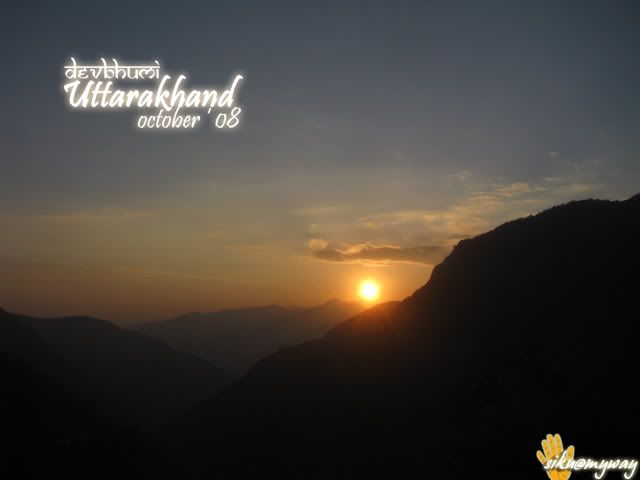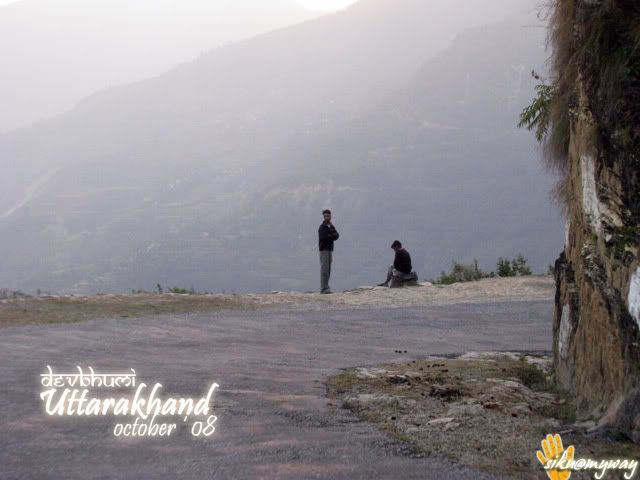 It was dark when we reached
Okhimath
. But we decided to ride till Kedarnath the same day. So night ride in the hills again. The roads were in very good condition and we reached
Gourikund at 7.30 PM
. This place was also to be closed in a day because Shree Kedarnath temple remain closed in winter from the day after Diwali. So there was very less crowd and the rooms were very cheap (200 bucks) but the only problem was food. Anyways after dinner we decided to start as early as possible as we have to cover 14 kms on foot for Shree Kedarnath Temple. We were forgetting that it is Diwali then Om got a packet of Phuljhadi from a shop and a peaceful diwali was celebrated in 5 mins….
Route – Auli-Joshimath-Rudraprayag-Gopeswar-Chopta-Okhimath-Gourikund
and the route from HELANG to PIPALKOTI was the best part and i enjoyed it most. wide and welcoming roads with very good tarmac.
Kms Covered – 191 Kms
Posted by

debarpita mohapatra
at Wednesday, November 05, 2008
2 comments