Saturday, August 23, 2008
the pure form of nature at Narkanda...
Posted by

debarpita mohapatra
at Saturday, August 23, 2008
1 comments


Thursday, August 21, 2008
A monsoon ride of 4 people covering 1200+ kms in four days accompanied by rain god with a '05 Uni(1271 kms) & a '03 CBZ(1470 kms)....
Things were planned many days before. It was quite long (3 months) I've taken a leave from office because of work load, so thing was in mind that this time there should be a good ride. And it was a chance to get a long holiday because of rakhi, Independence Day and a Sunday, good enough for a 1K trip. Himachal was the first thing which came to mind a month before. Initially Spiti was in mind but later decided for Chhitkul, the last Indian village on Tibet border. After this no habitation is allowed tough the last ITBP check post is about 27 kms from Chhitkul which is a very good trekking route.As per the final plan one of my friends, Bishnu will join us with his friend Amresh on his '03 CBZ riding down from Nimrana, Rajasthan. And I with Om will join him with our '05 UNI from Delhi by 3.00 PM. And we will do a night ride till Shimla.
DAY-1 (read day 0) 14 Aug '08 (Thursday)
It was the last working day in office for this week, so had to reach office early. Tank bag was already packed a day before. This time whole repair kit was carried with. The puncture kit was with me and tools were with Bishnu who was coming from Nimrana to join us. And we were prepared for the rain, but expecting it not to be till 9-10 PM, so that we can cover a good distance in between. So as per the schedule Bishnu reached in Delhi at 2.15 PM, got a call from Om that he will leave office at 3.00 PM and I'll pick him from his office. It was a good sunny day and I was happy with the climate and left office at 2.40 PM. By the time I climbed down to the parking lot it started raining, oh god how this is possible!!! what a sudden change in climate. Om called me again and informed that it's raining near IIT and Bishnu is waiting there and advised to wait for some time as it was raining for an hour during same time a day before, so we should wait to make a good start. So finally left office at 3.40 PM. Rain was slowed down a little. Got the tank full and PUC on the way and reached Om's office at 4.15 PM.
outside Om's office...


And it started raining again. It was raining like anything, and we were thinking what to do. After about 30 minutes we finally decided to go to hauz-khas market where Bishnu was waiting for us. After lot of discussions we four decided to leave Delhi and the clock was showing 6.15 PM. As it was raining we were welcomed by a good traffic jam on outer ring road. The next 3 hours was just hell, its better not to describe. I never rode 40+ kms in first gear. Would not get tired so much after riding 400 kms as compared to these 40 kms. The situation was same till the border with heavy traffic and worn-out roads. Don't exactly remember the time when we crossed border and by that time we were almost wet. After crossing border we tried to ride little fast tough it was raining. Our next stop was Murthal at 10.15 PM, did our dinner there and decided to ride till Panipat for the night stay. After nearly a break of 1 ½ hours we were on road again. It stopped raining and enjoyed the ride maintaining a good speed. By the time we reach Panipat we were not a mood to stop. There was absolutely no traffic on Panipat flyover and we decided to race. Ripping there at 100+ with pillion on board was real fun. Finally kurukshetra was decided for night stay. Reached Kurukshetra at 1.15 AM and got an AC room with two double beds in govt. rest house for 500 bucks. And it was time to get some clothes dry for the next day as we got some of our clothes wet tough protected.
at govt. rest house, Kurukshetra...
ROUTE – Neemrana-Delhi-Panipat-Karnal-Kurukshetra
DISTANCE – 198 kms (from Delhi)
PHOTOS – 10 pics

DAY-2 (15 Aug '08) (Friday)


Woke up at 8.00 am, the weather was good. But we were preparing ourselves for the worst. Got ready by 9.00 and skipping breakfast by 9.30 am we started.

the start of the day...



The map in mind was to cross Shimla as soon as possible.
So we were little faster and met with the first incident with in first 30 kms. We covered about 25-27 kms from Kurukshetra and I was with a speedo above 80 kmph, Bishnu was little ahead of me. Suddenly a confused maruti 800 put his breaks behind a broke down truck covering ½ of the open lane beside the truck and I can see a SUV with it's full throttle in my rear view applied both the breaks hard and hit the maruti very slowly, god knows how the bike was balanced. My heart almost came to my mouth….. BANG…. A honda city hit me from behind, making me a sandwitch between it and the maruti 800. These all happened with in fraction of seconds and later I realized the whole thing. I initially thought the car has hit Om's legs. By God's grace nothing happened. Took my bike a side took some deep breath and checked for the damages. The silencer was little bent in the process to save us. Thank God.
Now I slowed down a little. The weather was good and after 15-20 mins at 10.10 AM we met Sunny Bhaiya and Punit Bhaiya, who were with their family on the way to Shimla.

with Sunny Bhaiya...



Sunny Bhaiya immediately got his cam and a pic was shot by Punit Bhaiya. I absolutely forgot to get my camera out, I was so excited…:D Met Yug. There was some traffic ahead and we crossed them.
Stopped again for breakfast just before leaving NH-1. It was again an hour long halt. Fueled ourselves for another 4-5 hours ride.
all of us...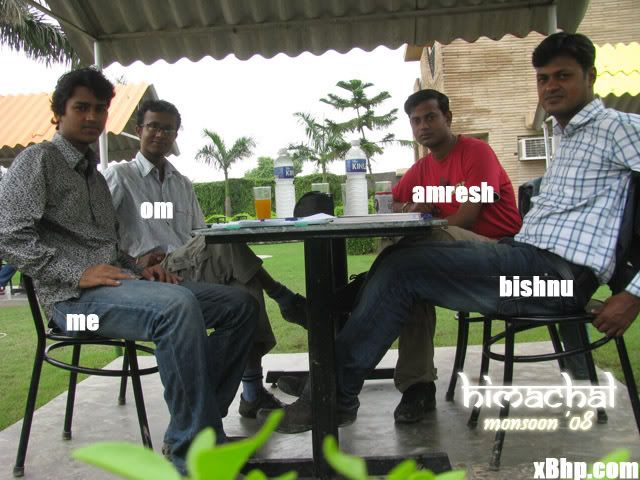 Took the diversion after Dera bassi for NH-22 towards Panchkula/Shimla. There was little traffic jam at Kalka, it took nearly an hour to get rid of.
traffic at Kalka...

After Kalka we entered Devbhumi Himachal, and the real journey started.
Now it was fueling time, petrol in Himachal is 2 rupees more than Haryana. Got the tank full again before entering to the hills. There was a hill resort after some kilometers, forgot its name. Stopped there for some photographs. Sunny Bhaiya also clicked some pics there on his way. After some kms we stopped again to get some glimpse of nature, clicked some photographs.
the start of nature...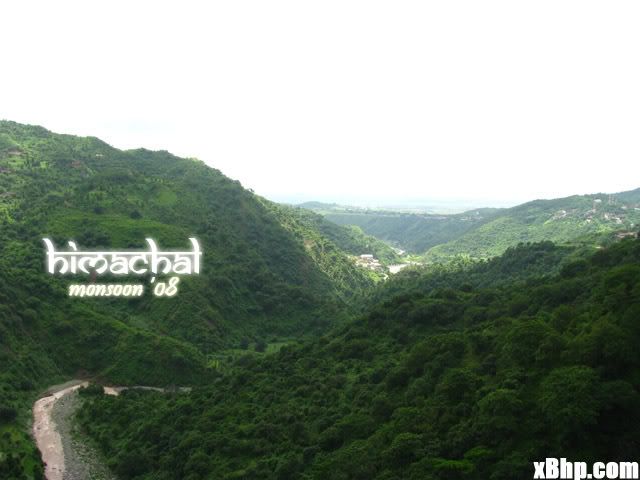 Om posing for the cam...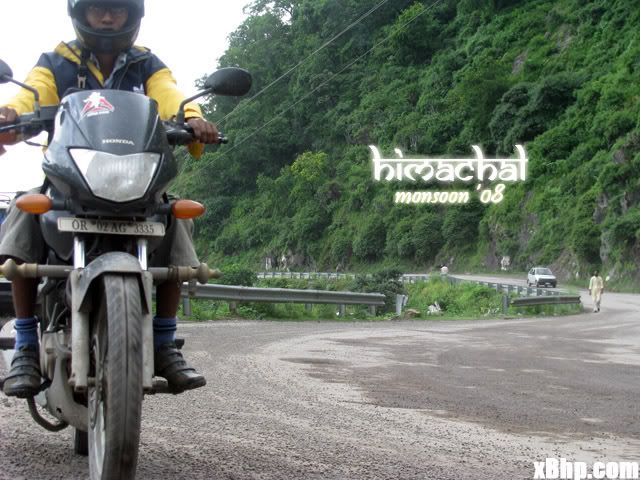 Bishnu and Amresh...

It started raining again at around 2.40 PM. And we took two more photo breaks in between the rains.
the rain... (from cell)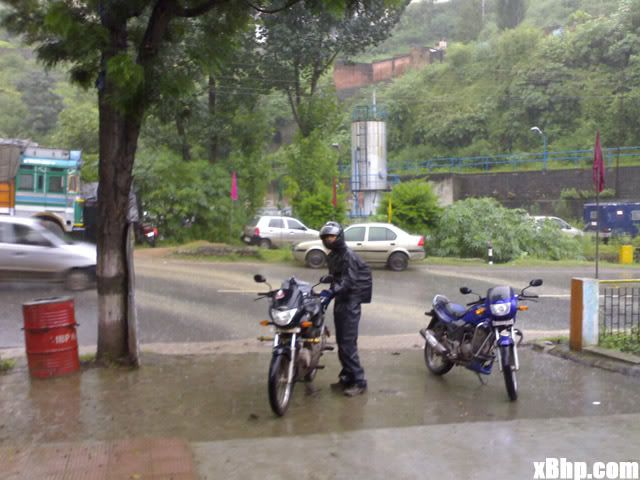 some experements while riding...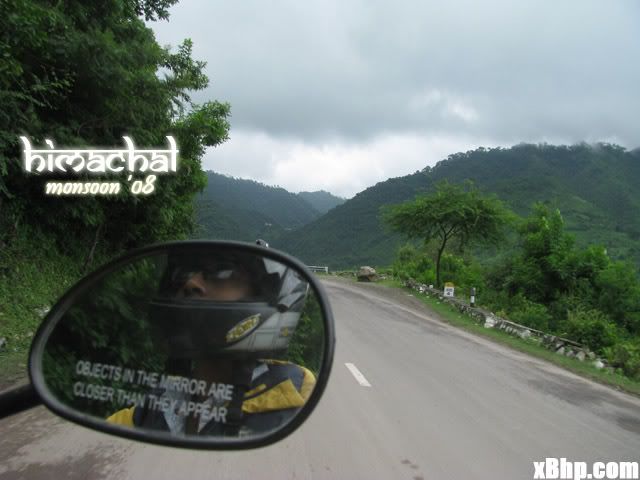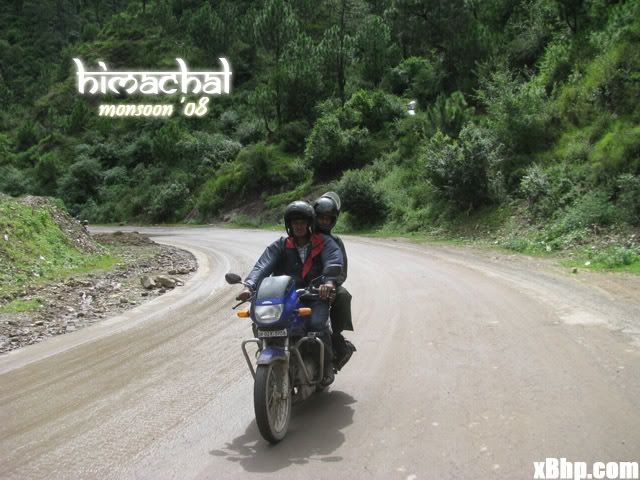 The roads were just a treat. I just loved the decent snake curves on the way to Shimla. The Mother Nature was just amazing. Monsoon was making it more beautiful. Though we loved the rain ride I was just missing the photo shoots on the way.
it's my turn now...



Om again...

Finally halted for lunch 25 kms before Shimla. The food was just delicious. The hot food recharged us again. Did some macro shootout there. Some pics came really nice.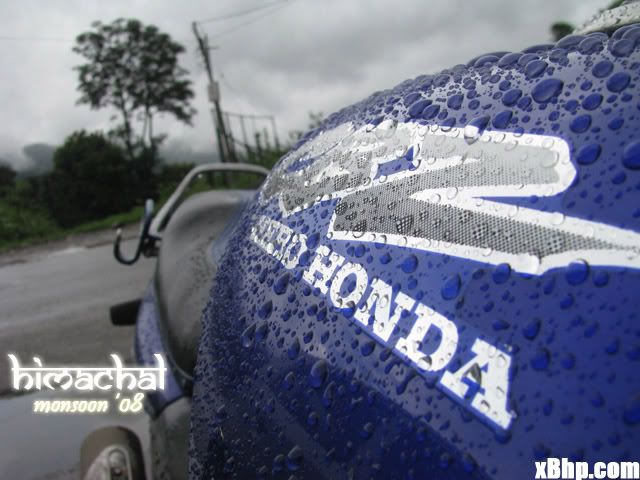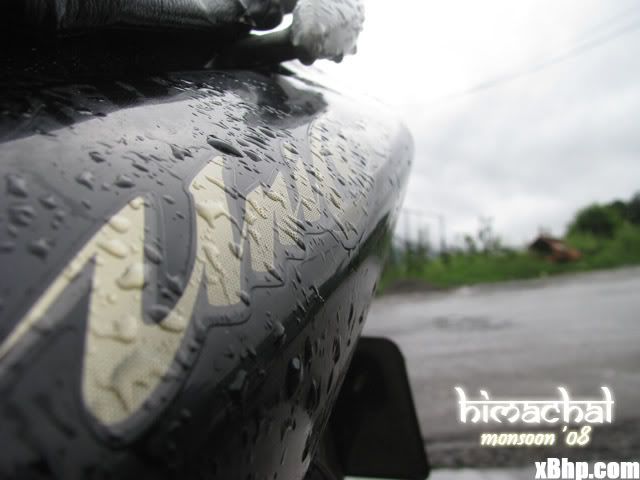 the place infront where we did our lunch...



same place while returning...

After a long break we headed again for Shimla. Stopped twice for photo shoot. In every couple of kilometers I just wanted a break, a reason to get some pics..:D
during some (photo)breaks...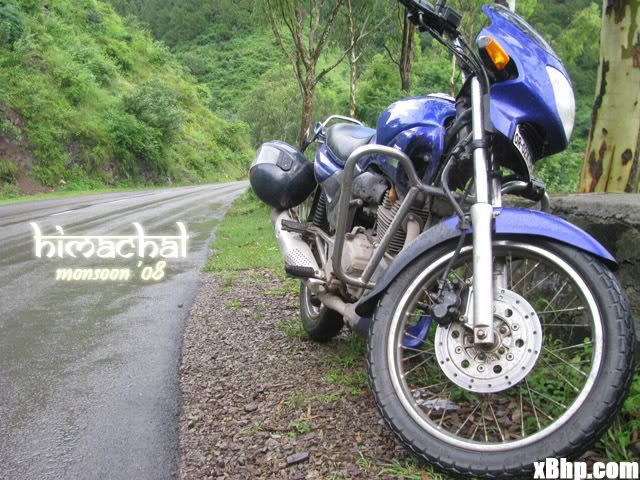 amresh...



some more...



just before Shimla...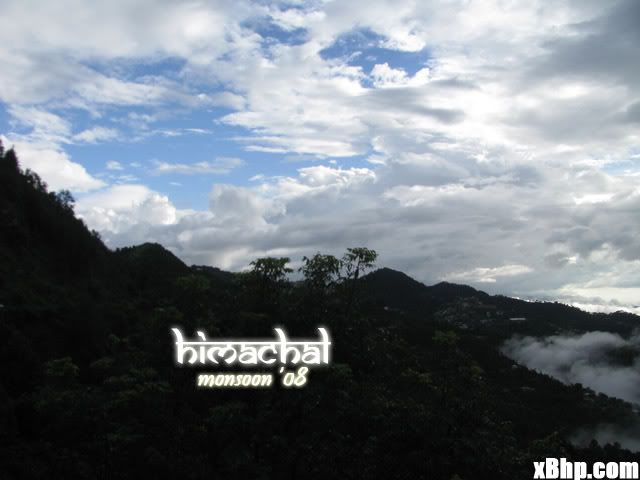 We reached Smila at around 5.30-6.00 PM. Still a good two hour ride was in hand, so headed towards Kufri.
heading for Kufri...

And now the real excitement of the trip started, got to see the first landslide. The road to Kufri was closed. Actually we were taking a short-cut leaving NH-22.


first land slide...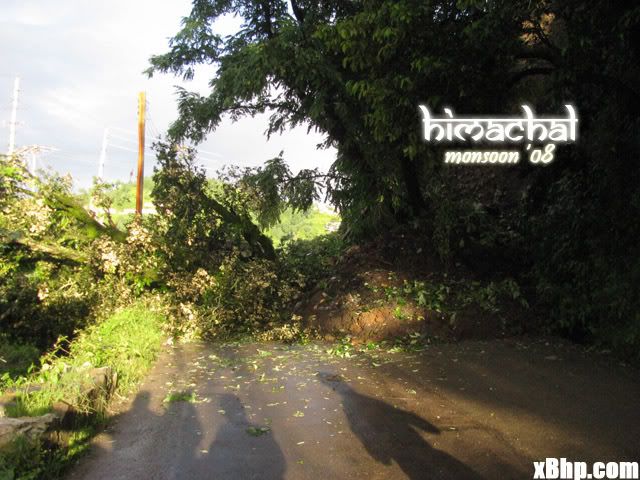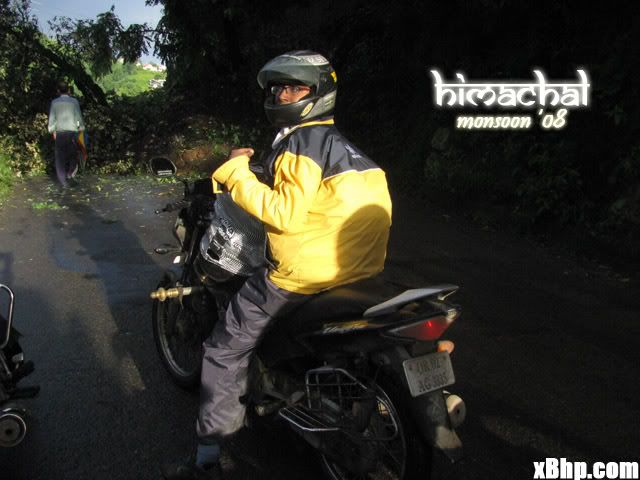 Came back to NH-22 again and it was little dark around.


evening at Shimla...


hills during night...

So decided to do our night stay at Kufri. And finally reached Kufri at 9.00 PM. Straight headed for the hotel confirming there is geyser in the room. Ordered hot soup and food. Enquired about the road condition ahead from the hotel and also from the bus walahs. Came to know that there are lots of landslides on the way but the road is clear. So we were little worried. And finally decided we should go till Narkanda and will decide there what to do next. Keeping it in mind we went to bed early and I got some night pics of hills from our toilet window. The bikes were in there their perfect condition except mud cladded….. This was the end of the day two and unaware of us there were more excitements waiting on the way……


ROUTE – Kurukshetra-Ambala-Panchkula-Kalka-Solan-Shimla-Kufri
DISTANCE – 222 kms
PHOTOS – 298 pics

DAY-3 (16 Aug '08) (Saturday)
Got a good 8 hrs sleep at Kufri. When we woke up, it was already raining and the valley was with its best. I already took some pics from our toilet window at 5.00 AM. The beauty of nature was awesome.
this is when we started...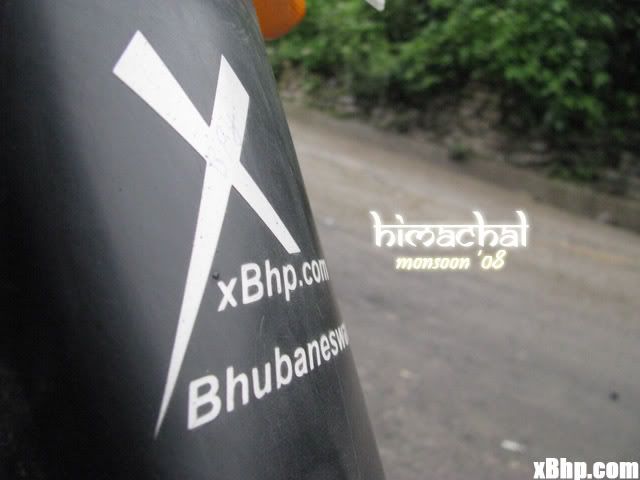 We left Kufri at 9.00 AM. We had good fun while riding thru clouds. The roads were a treat again. The ride was more enjoyable as we were getting higher.
the joyful ride thru clouds...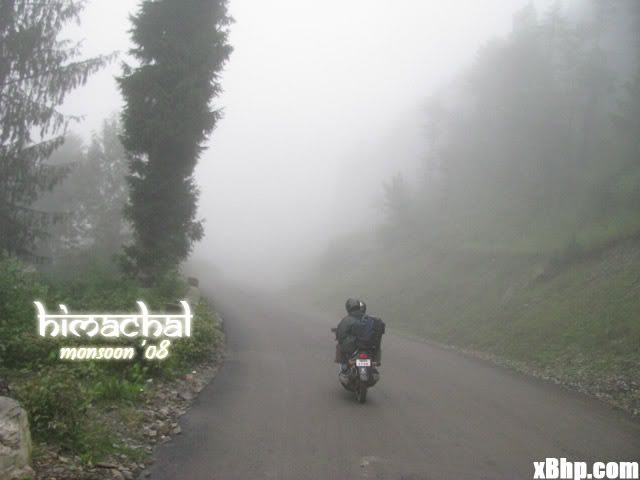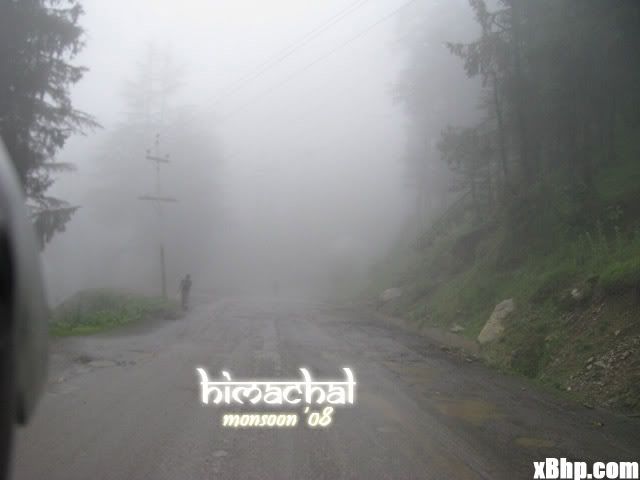 The next point of target was Narkanda via Fagu and Theong. Bishnu's front disc pad was worn out the day before and we got the pads from Dhali, Shimla. So our next stop was decided to be a garage. At Theong we replaced his break shoes as well did our breakfast.
the scne behind garage... just pure nature every where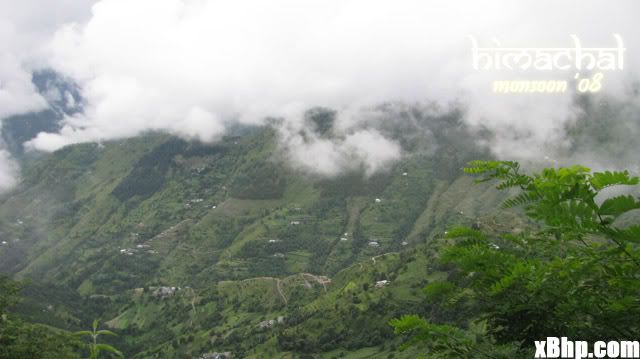 The weather was moderate by then with no drops. But it started raining as we left Theong. In mountains we always get rain in one side while not in the other side. So it was a game of hide and seek with sun and rain. This experience was also amazing.
We managed to reach Narkanda by lunch time. Took the lunch break there, bought some extra polythene from the hardware shop for our luggage. Next target was Rampur. Don't remember the times on day 3 accurately.
leaving Narkanda...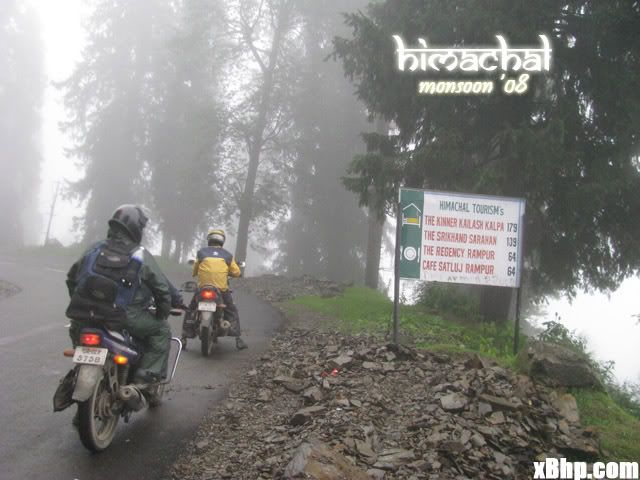 From Kingal, river Sutluj joined us. The roads were good enough and we managed a good speed. Ripping the snake curves with the Speedo 60+ in rain was real fun.
my fav pic of the whole trip...


30-40 kms before Rampur, I also got a worn-out front disc pad, and the next spare part shop was at chuhabag, Rampur. When we reached Rampur, we had enough time in hand to ride. Got the disc pad replace in 5 minutes for 400 bucks. We were happy that we will reach Chhitkul today only. But there was another incident waiting for us, there was a road block after 10-15 kms from Rampur. There was a murder and the road was blocked by Himachali women. We got this information later. When I reached at that place I was just got scared with the voice of a Himachali girl who had a big stick in her hand, I just took the bike to a side and waited. After about 30 mins we were unable to see any sign to cross that place. It was raining heavily, so we decided to return 2-3 kms back for tea, but as we started a local people came and told us to wait for 5 minutes. So we waited and after about 15-20 mins they allowed us to go. We were again delayed by an hour and wanted to ride little fast. But after Jeori roads were bad and not allowing us to ride fast. We were also gaining altitude. There was a constant rain thru out the day. The wet feet and hands were just collapsing, there was also down in the temperature. Took a tea break at Wangtu. As we enquired the roads were not advisable for a night ride. But still we decided to ride till Sangla. The road from Wangtu to karcham was with its worst because of rain and the construction of the power plant by Jaypee group. It was little dark when we left NH-22 at Karcham and headed for Sangla. The road was little narrow and steep. There was also little cloud for which we needed to be careful. We finally reached Sangla at 8.15 PM. This 18 kilometer was an excited ride and we felt that it's not possible to ride till Chhitkul as we had absolutely no idea about the road condition. The local people also suggested not riding to Chhitkul during night. Got two good rooms for 550 bucks each.
our room at Sangla...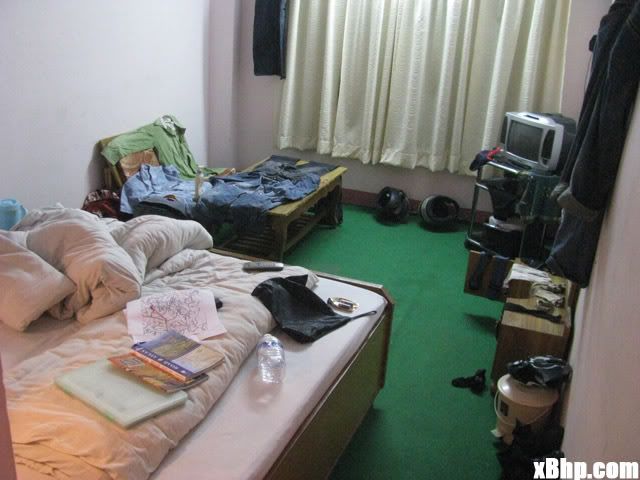 Put our bodies to rest as soon as possible to make an early ride on next day so that we can cover Recong Peo on the way back. It was a full moon night and at about 12 o'clock the sky was almost clear with some rings of cloud. It was fully enjoyable. All were with their sleep. I took my camera out got some pics of the valley with long exposures and the result was just amazing.
the mid-night beauty of nature...(took these pics at 1.00 AM)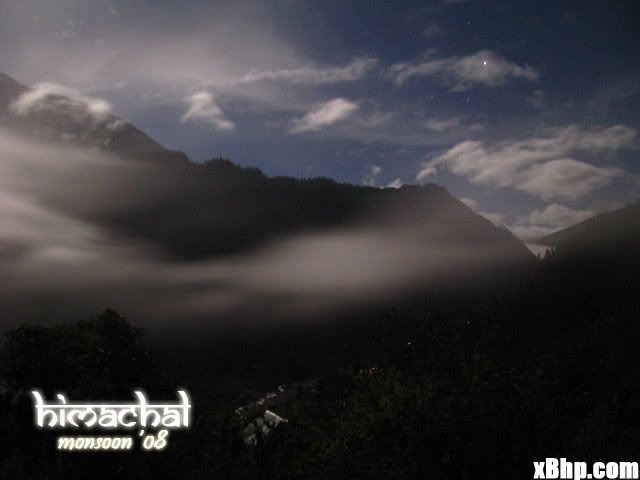 Then went to bed quickly to make a early start tomorrow.

ROUTE – Kufri-Fagu-Theong-Narkanda-Kingal-Rampur-Jeori-Wangtu-Karcham-Sangla
DISTANCE – 212 kms
PHOTOS – 171 pics


DAY-4 (17 Aug '08) (Sunday)
This is the most beautiful and the most adventurous day of the whole trip.
­Early to bed and early to rise and a long day to ride and ride. Woke up at 6.00 sharp and kicked the other three to get ready as soon as possible. The rain was already started and we started at about 7.30 AM for Chhitkul. Skipped our breakfast to save time but had tea.
start of the day...


The beauty of the valley was just amazing. There were trees full of apple where we parked our bikes. I got a apple and also got warned by a local people not to do this again as the fruit of this season is not yet offered to god. By respecting him, we got not a single apple after that.
The roads were little narrow and we loved the ride. We were just riding opposite to the flow of River Baspa. Took 2-3 photography breaks though it was raining. How could we miss to capture those eye refreshers!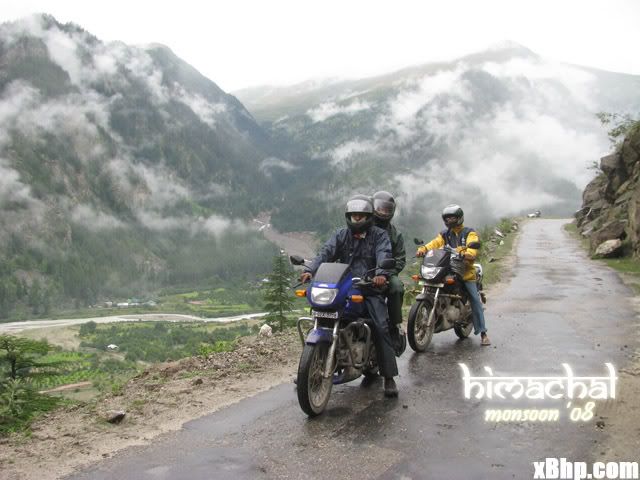 The 30-20 km ride was the best route we rode thru. It was narrow with steep slope aside, curves, up n downs, thru villages, thru apple trees, thru flowers, thru ice chilled springs and thru the pure form of nature, it was just amazing and it wiped all the pains we took to reach there.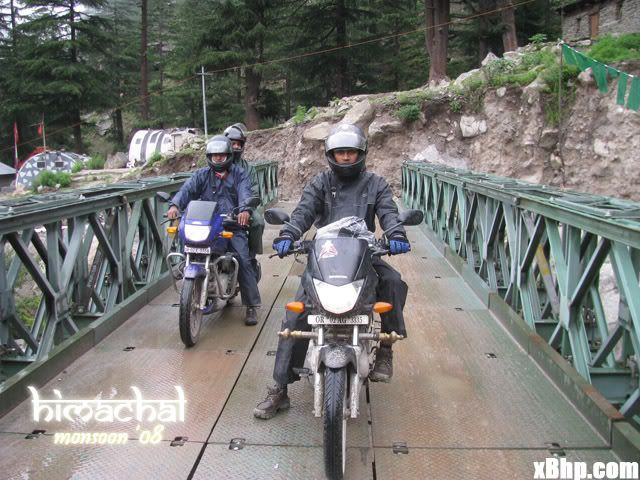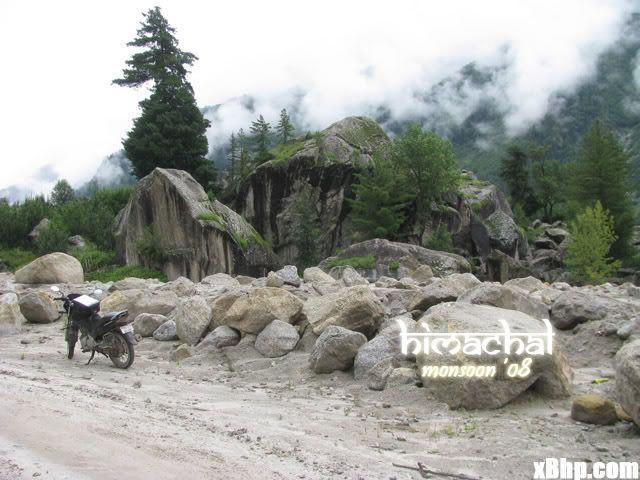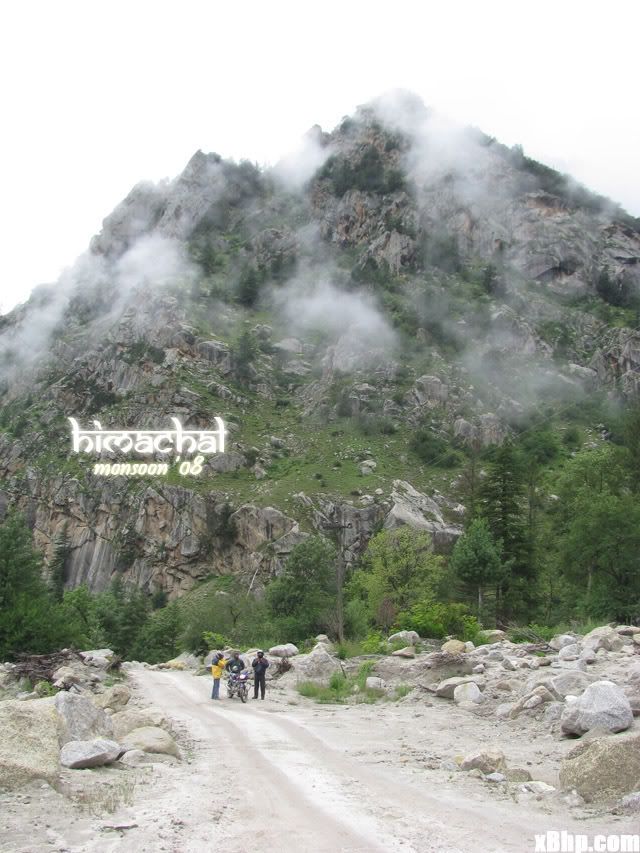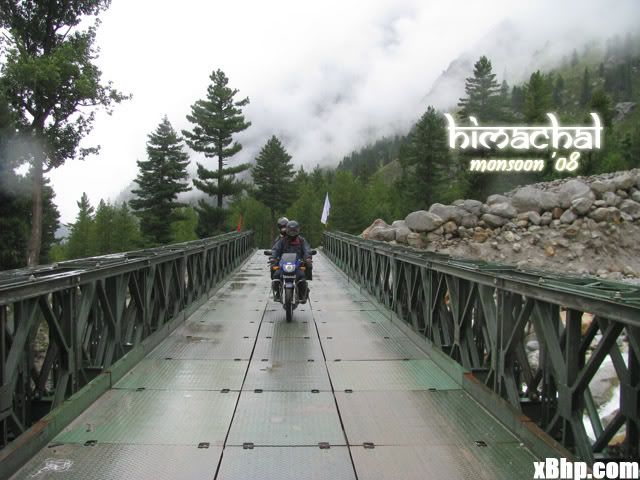 We reached Chhitkul at 9.15 AM at a height of 4550 M above mean sea level. Chhitkul has a population of 600. We finally came to the end of the motorable road. After this there was a trekking route for 17 more kilometers, till the last ITBP check post. If somebody is planning for Chhitkul, then I'll just suggest for trekking in Sangla Valley. That was our last point and we had to return back.
start of trekking route with the end of the motorable road...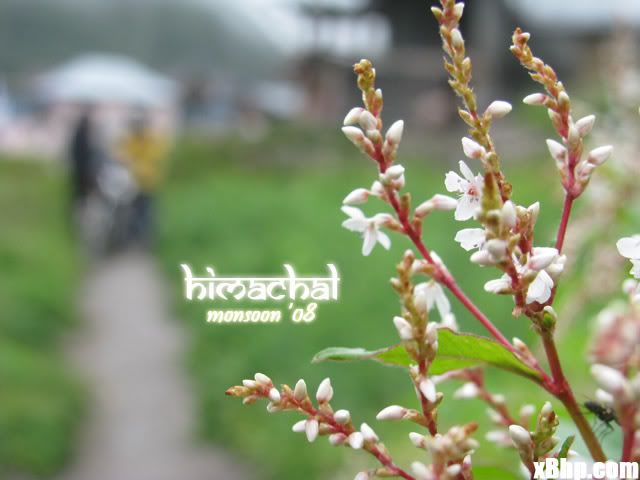 Parked our bikes infront of Rani Guest House. Did some shoot-out there and were served with very testy Maggie by the owner of that guest house, a very sweet lady.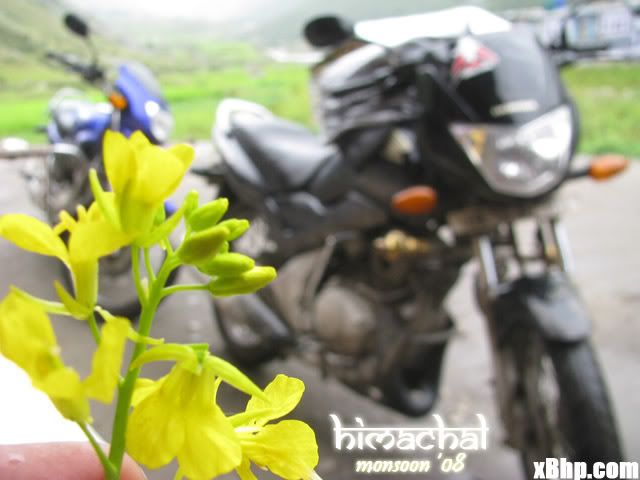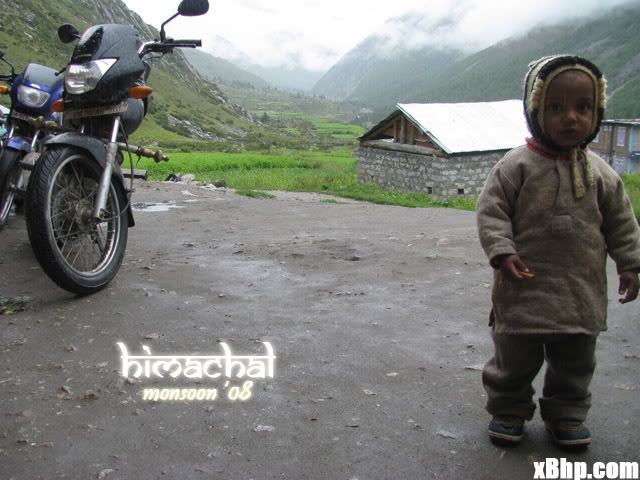 We had to reach Shimla on the same day, so we left Chhitkul very soon. We started at 10.15 AM. leaving Chhitkul... (we just did it)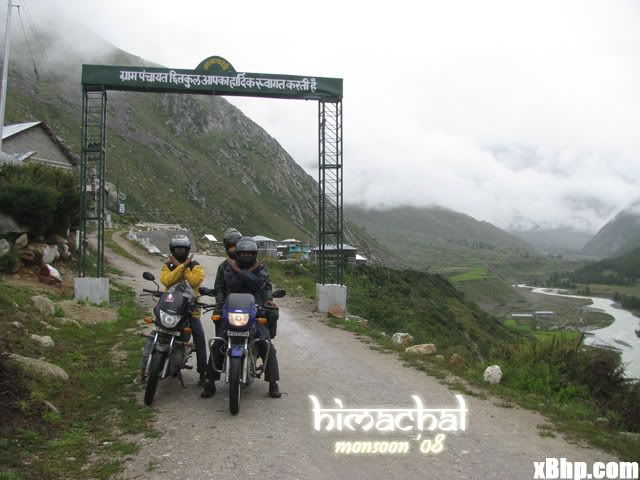 ride thru ice chilled water...


Now we had enough time to fill the camera's memory. Took a long break to rode down to the Baspa River. Captured some pics and headed straight to our guest house.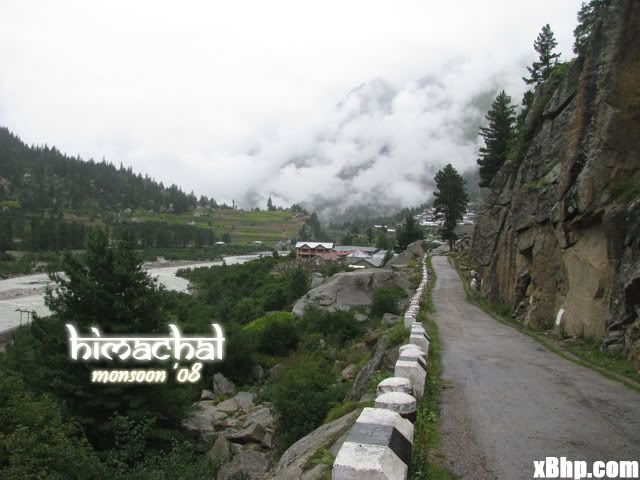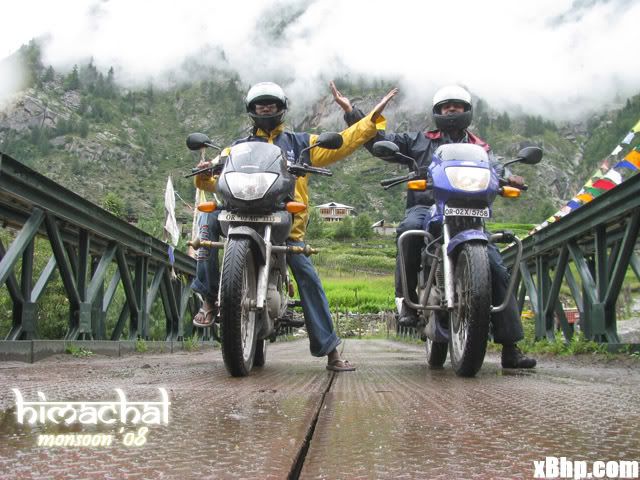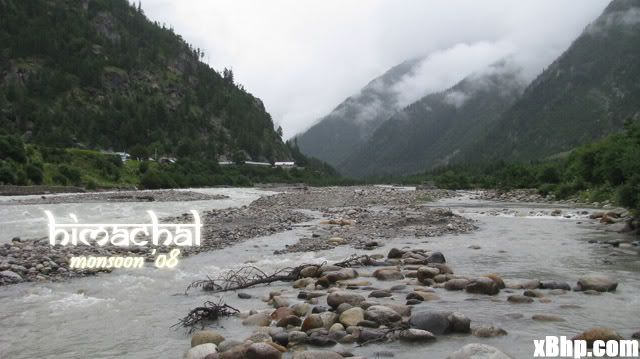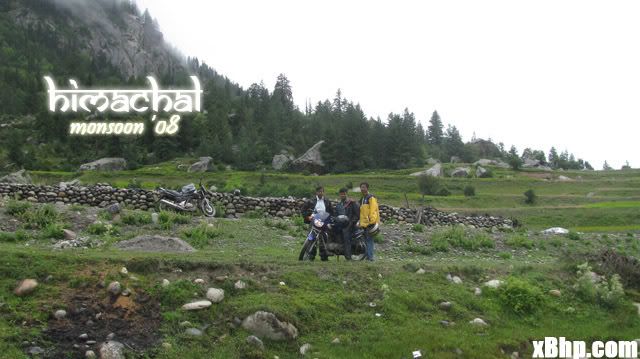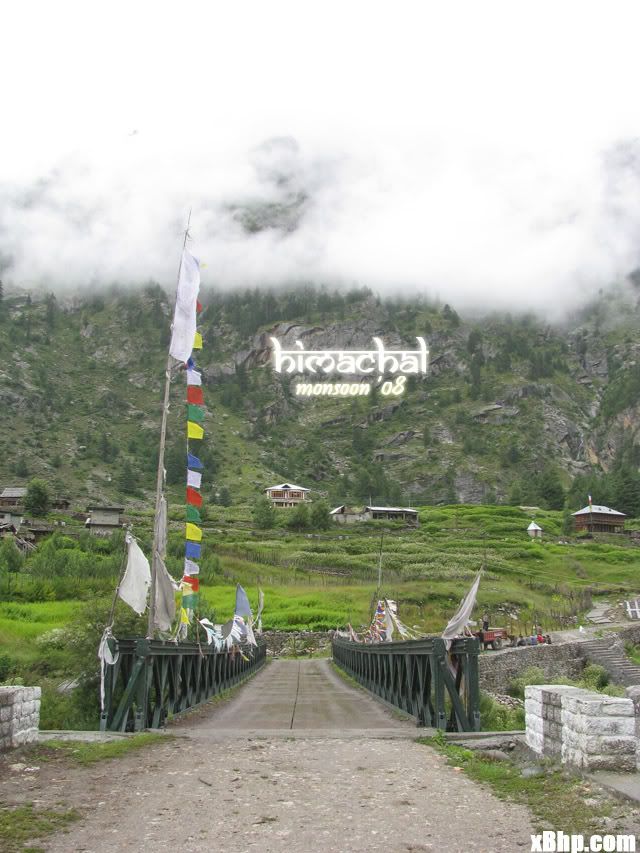 Reached there at about 12 o'clock, packed our bags and started as soon as possible as we already marked so many places for photo breaks while riding day before.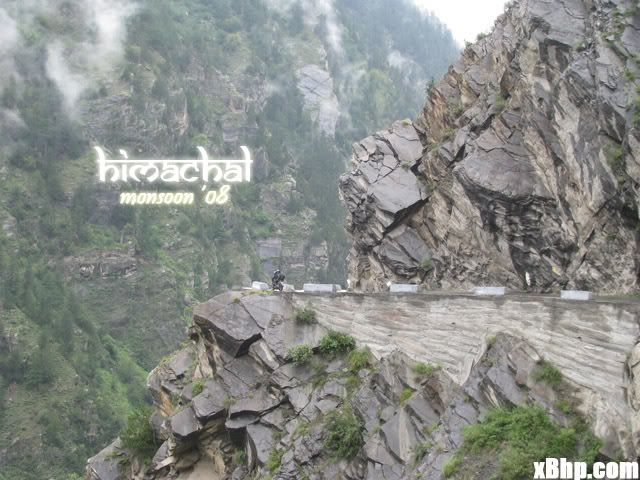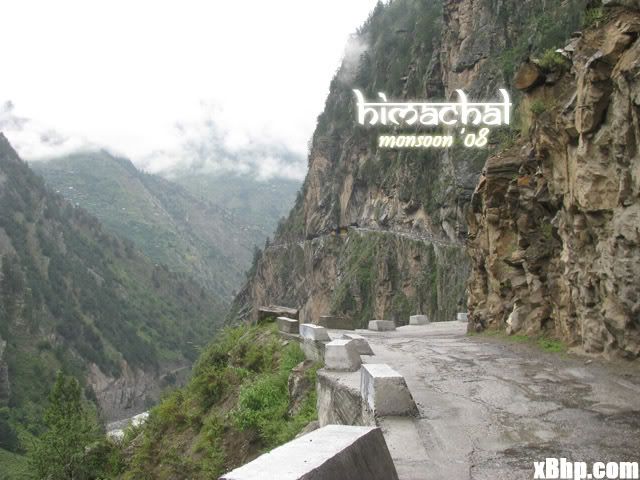 i wanted a long photobreak here but rain n fog just made it impossible...


The day was good enough just before Bhava Nagar, before Rampur. There were two guys with there Enfields standing just before a turn and soughting something. There were some stones on the road and I just continued to cross it, but Bishnu stopped and as I stopped near them he started again and there was a lady there who started soughting loudly. Then only I realized the thing, stones were rolling down from the hills. Because of the lady's sought, Bishnu came to understand the thing and was just escaped from a stone by 5 seconds.
here we escaped a slide by fraction of seconds...(bishnu analyzing how he escaped)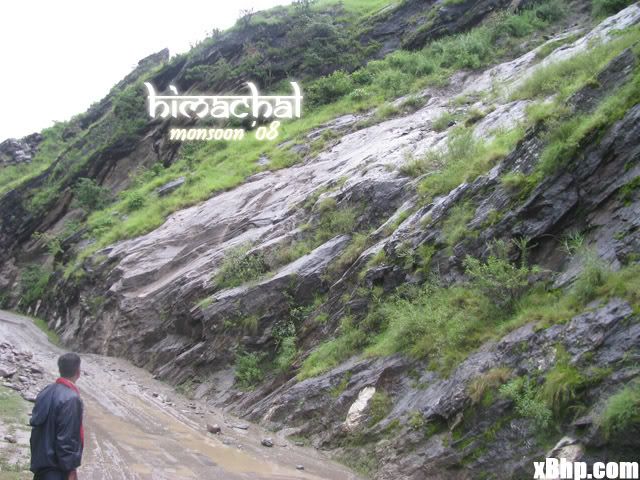 By gods grace we were safe but it made us very careful throughout the day's ride. There were two other bikers who were heading for Chhitkul. They were also from delhi. They enquired about the road condition and we started again after they crossed that area safely. Now we were looking up more and slowing down when ever we find a stone on the road. There were lots of landslides throughout. We felt that it's just impossible to reach Shimla by night. But we decided to ride till the extreme. After Rampur the unicorn's chain was loosen. So we stopped for the tightening, but the adjustment was at it's maximum so we need to find a garage to cut the chain as we dint wanted to take the risk as we were planning for the night ride. It was about 6.30 when we reached Kingal, some 30 kms before narkanda. There was only garage there but to our bad luck the mechanic was not there. We waited for 15 minutes, it was already getting dark and rain was also continuing. After waisting 15 precious minutes we decided to head for Narkanda slowly. After 2-3 kilometers it was completely dark and we were loosing visibility because of the clouds. After around 10 kilometers there were very big stones laid on the roads with a couple of vehicles at both sides. It was a fresh landslide. We got faster heartbeats from here. We managed to take the bikes to the opposite end and enquired about the road till Narkanda. Tough the road was clear with minimum 5-7 slides in between; anything worse could be waiting for us. After 10 more kilometers we lost our visibility by 90%. It was not possible to see even 5-7 meters ahead. And there was the tension of land slide. We were just hopeless and there was not a single vehicle on the way. The CBZ has a poor light, so instructed Bishnu to follow me. He followed my tail light and the indicator. Thank God, we were at the mountain side. The only way to recognize the road wad the road edge separated with grass. We were at a speed of 10-12. Many times I felt that a tree is falling on us. We all were very very scared, and praying God to just keep us safe. It was the most adventurous and thrilling 10 kilometrs of my life. I was never so help less in my whole life before.
The worst was waiting for us…. Narkanda was only 3 kilometers away, my Uni stopped in the middle of a Hair pin bend. Oh Sh*t, the chain was gone. We had no option in hand. We were in the middle of the jungle with clouds/fog all around. We all were just looking up to get aware of the trees to fall, and then there were just two drops of water in the corner of the eye. Oh God, what a test you are taking of us. This was the only thing in mind. There was also not a single vehicle coming on that way. We also dint had the tools to repair the chain. So we decided to push the bike till Narkanda, 3 kilometers away. But it was really a hard task. It would take an hour to reach that distance. Oh God, we had a tying rope. So thought to pull the bike by CBZ with that but that was too weak, after 300-400 meters we found some people in a tent. It was so relieving, you just can't imagine. They were workers and we got a strong rope from them. Tied the bikes with them and the Uni was pulled. It was not possible to keep the pillions on board, so Om and Amresh decided to walk as Bishnu was pulling me. As we reached Narkanda, Om called and told that they are in the middle of the jungle and it's completely dark around making them scared. So Bishnu went to pick them up. And he came back with them in 10 minutes.
It was so relieving and we felt that we were just in hell for last 2 ½ hours. God is great, we were all safe. The clock was showing 9.00 PM. 90% of the shops were closed and there was also no mechanic. So there was no chance to repair the bike at that time. Bishnu has to reach Neemrana by 8.00 PM tomorrow. But we were going to be delayed as the bike only can be repaired next day morning. So we headed for hotel. Did our dinner at the only restaurant open there. Enquired for the mechanic's shop and its open time. And it was not possible before 8.00 AM. We all were almost silent. Went to bed memorizing the last 2 hour's ride of that day.

ROUTE – Sangla-Chhitkul-Sangla-Karcham-Wangtu-Rampur-Kingal-Narkanda
DISTANCE – 207 kms
PHOTOS – 351 pics
DAY-5 (18 Aug '08) (Monday)
Hmm…. The final day of our adventurous Mansoon Himachal Ride.
Woke up at 7.00 AM. It was a bright day. The thrilling memories of yester night were in their deep sleep, a new day to ride again…:D The sky was clear and we were seeing a cloud less sky. The view of the valley from our hotel room was just superb and was just unbelievable that it was so furious yester night.

The view behind our hotel...


Our hotel and the Shiv temple in front...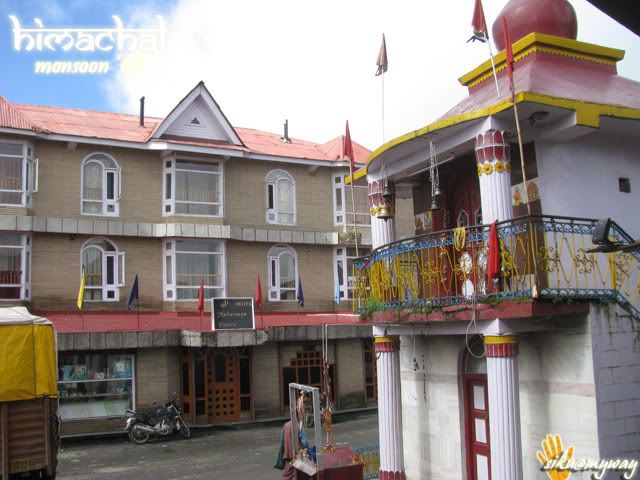 But we were missing the clouds; they were just making the nature so beautiful. The first work was to get the bike repaired. Then just Bishnu came and informed that the garage is not yet open. So I just slowed down and was got ready by 8.00 AM. Then headed for the garage and after 10-15 minutes the mechanic came to open his shop and we got the chain cut in 20-30 minutes. Did our breakfast where we did our lunch two days before. And it was a long way to go. We had to reach Delhi that day as Om and I had to go for office and Bishnu has to reach Neemrana as he has a night shift on the same day. 400+ odd kilometers was just an ease but we had to stop in many selected places for photo shoot. So as I mentioned before, I use a funda to take photo breaks. Just ride fast err… fly slow, cover the calculated distance in less time n take the photo break…:D. I usually do a lot of calculations while riding. I just try to make a balance between the ODO and the watch… ;).
So finally we were on road with new spirit, new experiences with added respect for life and god. We started at 10.00 AM. It was a down hill till Shimla. I don't like Shimla that much as it's a year round tourist spot with a good huch-puch of local tourists. Still we decided to give a visit to Mall Road and we will have our lunch there to solve both the purposes.
Leaving Narkanda...(yours truly)


We rode the downhill little faster. As I mentioned before the roads between Shimla and Narkanda was just a treat. So we ripped with good speed. The smooth snake curves were just like a cherry over the cake.
Our first stop was just after half an hour. It was a beautiful place with tall pine trees on both the sides and a snake curve. The place was simply amazing.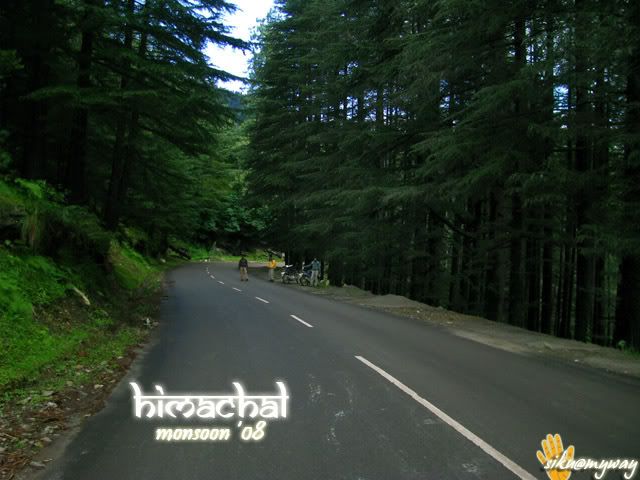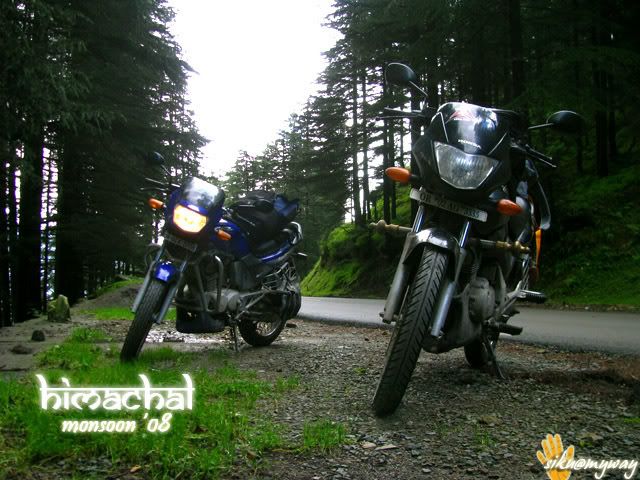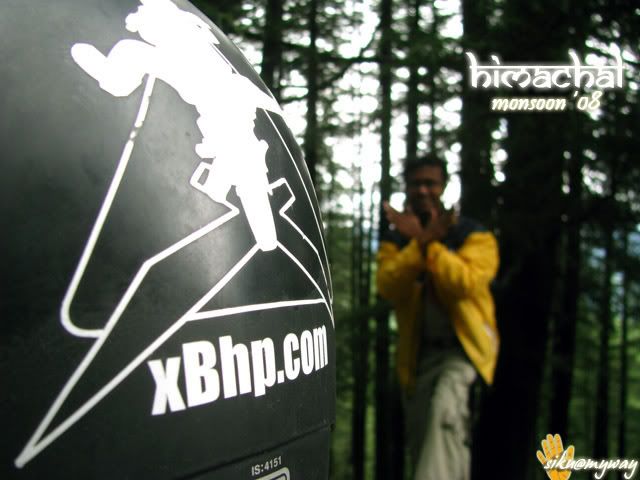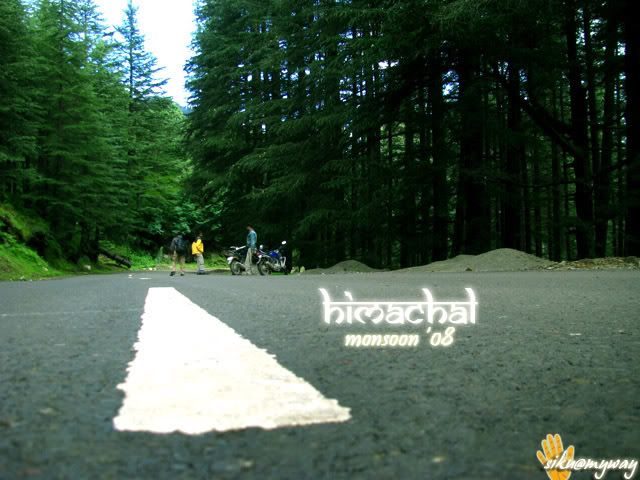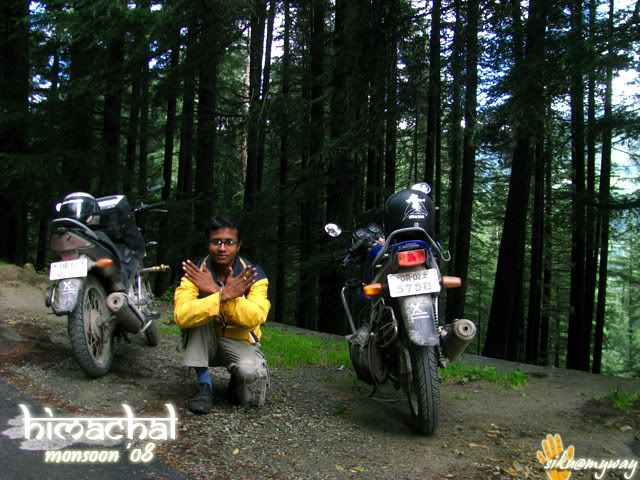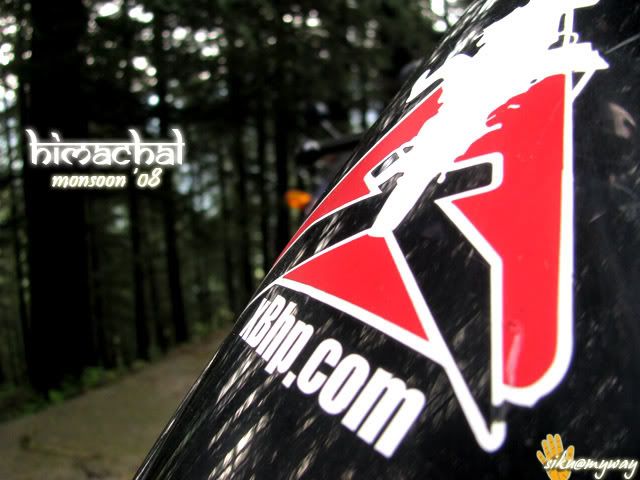 Actually we crossed that place and after 1 kilometer I felt that this was the same place where we decided to capture the pine trees. So we headed back. It was a long photography break. It actually started at 10.33 and ended at 10.57 AM.
There were so many bad land slides on the way, but the road was clear. It was actually the rainiest monsoon in that area in last 6 years. We got this information from local people.
Some of the land slides...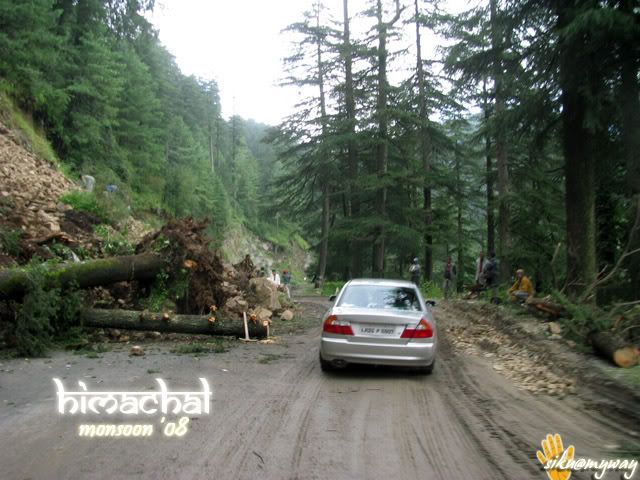 Some kilometers before Shimla we were passing thru apple orchards and could not resist ourselves to capture it. One more good break...:D
Some of the pics...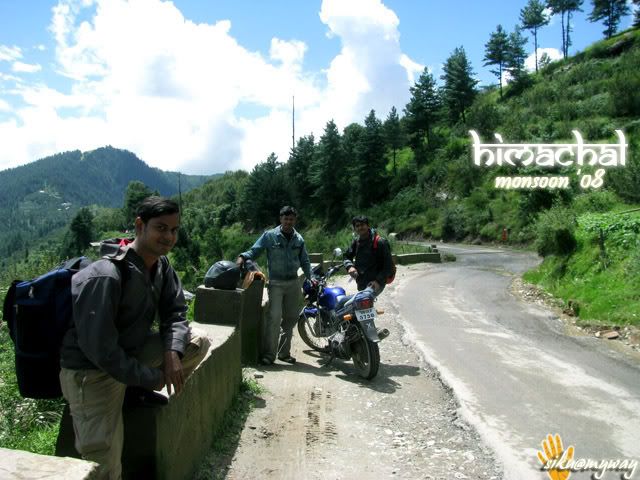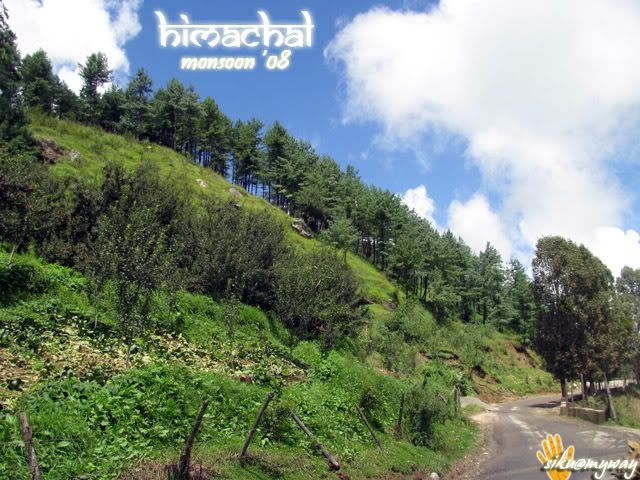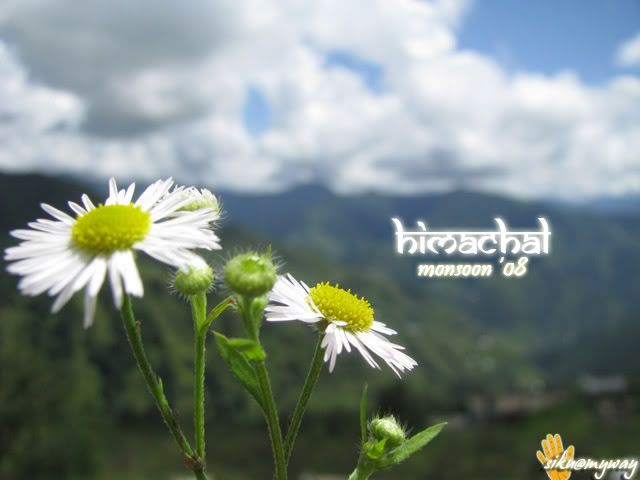 On the way...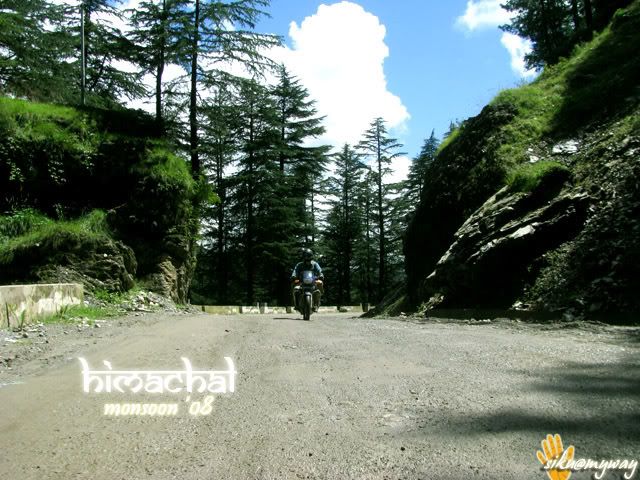 At 1.15 PM we reached Shimla and it took about 30 minutes to reach Mall road. It was so much crowed that we decided to leave as soon as possible and got burgers and pasta as we were hungry and decided to have our lunch after 25 more kilometers, the same place we did our lunch on our second day. We left mall road with in half an hour. And headed for downwards again. Did our lunch, the food was as testy as before.
It was already late when we started means night ride again. But my calculations told that we will be at Delhi before 11.00 PM. We started at 4.00 PM. After Solan we decided to ride via Kasauli. It is also a hill station. The nature was very picturesque. It was an uphill till Kasauli and the road was good enough.
By 6.00 PM we were at Kalka. The traffic was with its peak. With it the hill ended and the same boring plains again. And it was time for a continuous ride.
Bishnu decided to take the diversion for Neemrana. But the exact route was not known to him. So we stopped at a place for our tea at about 10 PM, forgot the place. Searched our map and there were two diversions, one from Panipat and the other from Sonepat. And calculations told it's about 80 kilometers shorter with avoiding the traffic at Delhi, roughly saving 2-3 hours. So he decided to take the diversion finally from Sonepat. But he paid for it, for taking an unknown route that during night. I'll come to that at the end.
NH-1 @ 10 PM...

So we decided to have our dinner together, tough I dint want it to save time. We were running behind from our schedule. But Bishnu was exhausted with a fried a$$ and was feeling sleepy. It was an iron butt ride for him. He rode 200 kilometers more than me. And finally we stopped at Murthal for dinner. It was 11.20 PM then. It was again a long break. We all were not in a mood to ride. The dinner made us little awake.
At Murthal...



Bishnu confirmed the route again from the dhaba wala. We started again at 12 o'clock. Sonepat was just few kilometers ahead. From Sonepat Bishnu took the diversion and we road faster to reach Delhi as soon as possible. We were just afraid of the traffic at border and it also came true. There was a few kilometer long freeze traffic. And it was the longest I rode thru. By-god, it was so irritating to find a 3 feet gap between the trucks, we were just exhausted. The situation was same till ITO. And till this point we were just like snails. It was almost same as our first day.Finally reached at our room at 2.00 AM. Parked the bike. Took a thorough look of the bike and my eyes were speaking 'you just rock'.


Bishnu's adventure:
As per the plan his route was Sonepat-Jhajjar-Rewari-Neemrana. He only knew the 35-40 kilometer stretch from Rewari to Neemrana.
We were opening the lock of our room and got a call from Amresh. They were at Jhajjar. There were five diversions in front of them with no signs and no one to ask. As the maps were with me they asked for the directions. And we came to know that the roads were in very bad condition and were completely lonely. The situation was same till Rewari. There were big POT holes on the roads forcing them to ride fast and the night making them scare because they were the only on the roads. They got little relaxed after Rewari and finally reached Neemrana at 4.00 AM.


ROUTE – Narkanda-Shimla-Solan-Kasauli-Ambala-Karnal-Panipat-Sonipat-Delhi(Sonipat-Jhajjar-Rewari-Neemrana)
DISTANCE – 432 kms (to Delhi)
PHOTOS – 305 pics
Posted by

debarpita mohapatra
at Thursday, August 21, 2008
5 comments