High Force Waterfall in
Durham County
is one of the famous water falls in England. Falling from a height of
70 feet
on
River Tees
it is the highest uninterrupted waterfall (not highest) in United Kingdom. The whole river comes down from the steep rocky edge in two steps which even freezes during the winter days.
Other than the Fall, the walk along with the track following to the place really gives a variety of views at every node.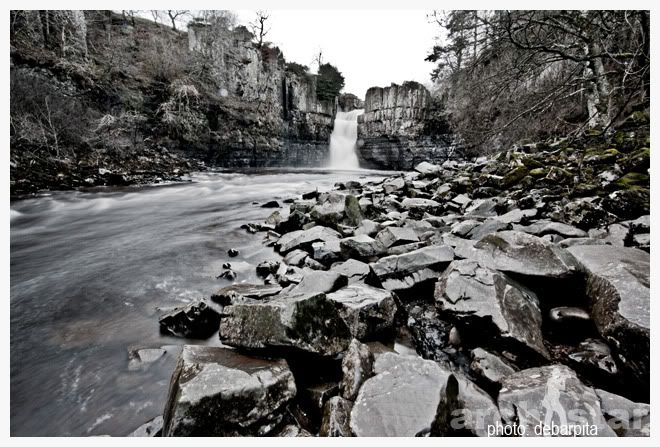 Travel Information:
Location
- Teesdale, Durham

Phone
- +44 1833 622209
Post Code
- DL12 0XH (Sat Nav)
Opening Times
- 10am to 5.00pm
Entry Fee
- Adult: 1.50 GBP
Student: 1.0 GBP
Parking
- 2.00 GBP
Staying Options
- B&B facility available
Time Consumption
- Minimum 1-2 hour
What NOT to miss:
A calm sit on the rocks facing the waterfall and the jungle trail. The small souvenirs from the Gift Shop (Gift shop itself is the ticket counter). And yes, hot soups are available in the Gift shop which was pure bliss for me on that real cold evening.
Precautions:
BE careful on stones, those are really sleepery. Take care of Children all the time. And it is advisable to give them a call about opening hours of the day during winter as it remains closed on adverse weather conditions.