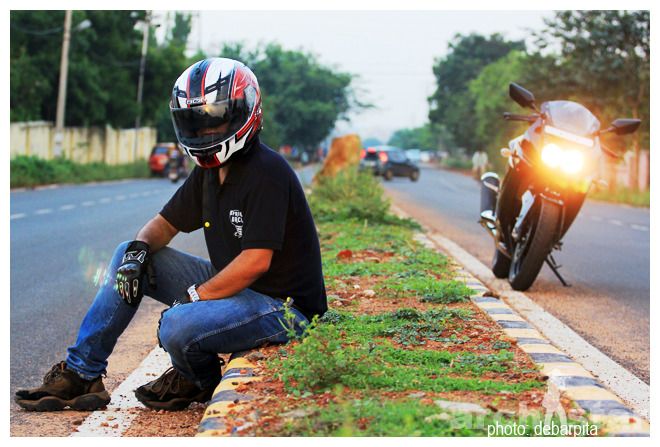 This was the first thing which came to my mind when I was about to ride to Puri from my hometown Bhubaneswar, roughly 60 odd kilometers starting from my doorstep. Honestly, I was hesitant to go for the ride all alone and in the scorching summer in this coastal part of India. Damn! How it can be! I was missing a good and seasoned bike and then my riding gloves, and at the same time I was also wondering when I rode last to the core in last 2 years, starting from mid-2010. Should I count the only touring I did for some 200 kilometers on a Honda Activa when I was back to India or should I count those test rides of bikes like KTM Duke200 or Yamaha R1-5 V2.0 or the Hero Impulse!!!
Puri, always was a special place for me, in-fact it is. Reasons are many; being a Jagannath devotee I used to visit the temple with family as a kid and then a good and extended play session on the golden sandy beach before ending up with getting wet throughout in the sea water. Ah, nostalgic those memories are. Once started growing, especially after getting a set of wheels, Puri was THE destination. At an age of 15, doing this 60 kilometer ride and back was heroic (that is what exactly the whole friend circle used to think), who cares if you are on a 65cc moped like 'HeroPuch Shakti 3G'! I literally have lost count on the number of rides I had. Along with time the gradual progress carried on, from a moped to a 100cc bike then the first wing (read Honda Unicorn, 150cc decent monster) and then behind the steering wheel with a proper and valid Driving License, a ride to Puri never needed an occasion. A compulsion of riding/driving on Puri-Konark marine drive was just an icing on the cake. My core friend circle mostly remained constant, though we all had a different stream/profession, we always hanged out together. Most of them being close to others families' broke almost any restriction from parental side, another added advantage which made us to do some crazy ride to the place even in mid-night. As I mentioned, a ride to Puri never needed any reason and most of the times, out of nowhere we used to land somewhere in the holy town. Anyways. Soon we moved out one by one to different parts of the country (even world) to make our carrier but the home-sickness was always there and those occasional visits even had a reserved day for Puri, though it mostly was restricted to get the blessings of lord Jagannath. The life is still continuing in the same manner and this time I'm here for some social occasions and all these golden memories flashed back in some nook of the brain only when I started thinking to use the public transport to reach the place, especially when there was a HeroHonda Hunk in my service.
10 minutes of fight between the mind and heart before I revved the throttle of the bike, flat 60 minutes and I was there covering 55 kilometers and in the year old biking avatar. I did came over those feelings of not riding in hot summer, riding among crazy people who think the NH even is their ancestral property (as I had not ridden a bike in such conditions in last two years, it was bit difficult to take a call on it, I am not a white collar guy but at times the profession has its own shade) and also riding without the gloves. I should not lie, it took me 15 minutes to get set on the road and to the weathering conditions before I started riding crazy. Little less than 200 kilometers including lots of city riding after 24 long months was absolute bliss.
After all; Once a biker, always a biker ;)
Ride hard, ride safe.