Day-XI (24th July '09)
Last night was simply horrible. My whole body was aching like any thing and Om got a very bad cold and tired too. I was doubtful if
AMS
(Acute Mountain Sickness) hit him because he also got a headache. He slept with a disprin but it was quite cold for me and I was trying to figure out some stars in the clouded sky.
We slept like a pig and when the morning alarm woke me up to capture the sunrise and I got disappointed like anything. The sky was all white and it was windy. The reflection of the mountains around and no blue sky was not there on water because of the wind. It was the only reason I choose it over Pangong. The water of Pangong is definitely dramatic but it hardly shows any reflection of the surrounded mountains because of its vastness, but after seeing Rocky's photographs from Pangong 'm thinking that it would be better to see at least blue water
. But we have no control over nature. It also had its own charm in those cloudy windy days.
Anyways then I slept again for 3 hours and woke up at around 8.00 AM. Om woke up little later and he got a bad cold though there was no headache. He was unable to bear the cold. After having our breakfast we went to Korzok monastery and the festival was yet to start so we went to the lake side. The view and experience was simply amazing. Though there were no great photographs but there was a peace of mind. Took the bike to the lake side and seated there for a long time.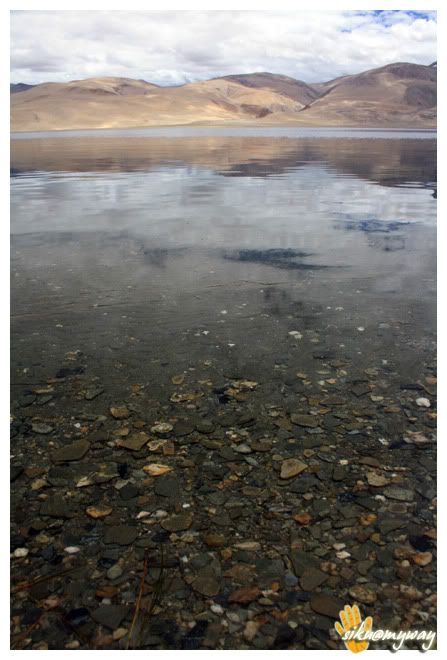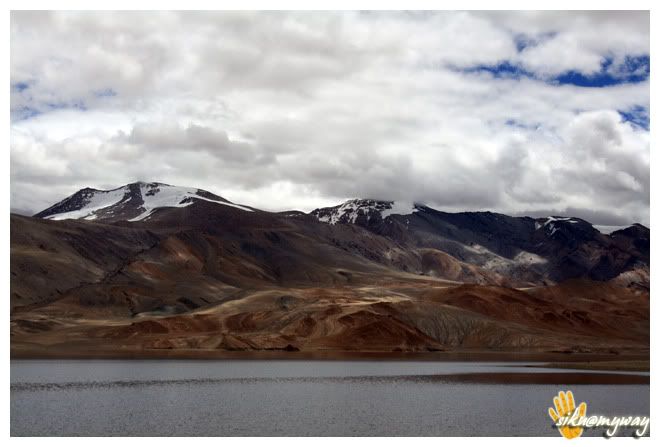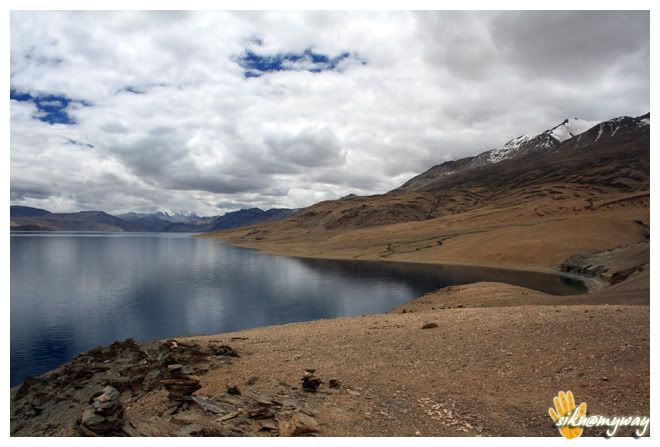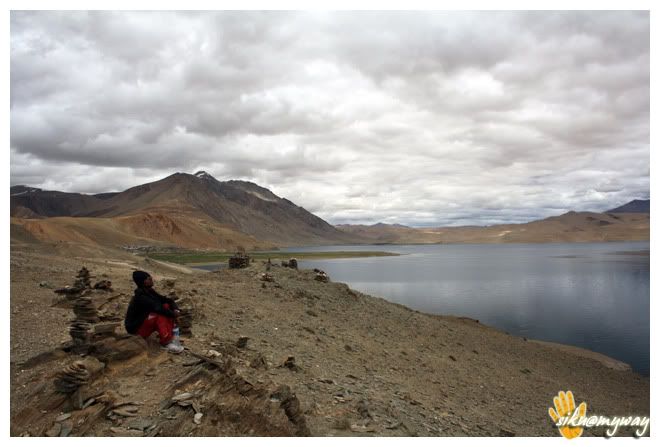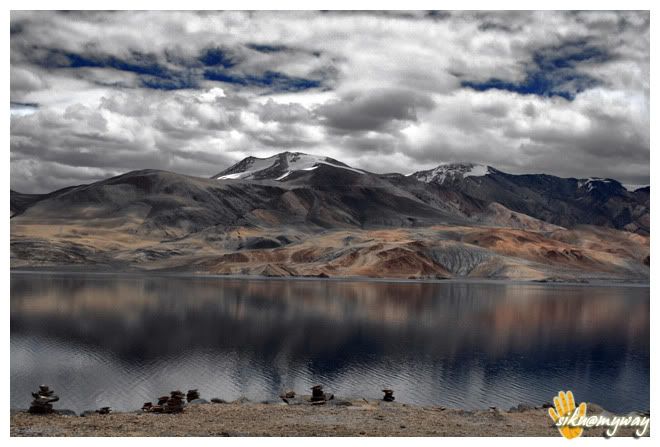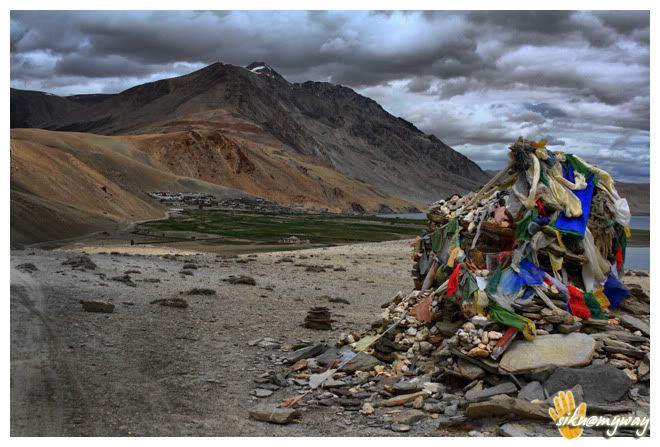 But after an hour Om dint felt well and we decided to return back in fear of not to get a bad health condition. Because we had to stay there for the next day also because the main festival was on the second day.
So we wrapped up leaving the
Korzok Festival
behind and started for
Pang
, the complete unknown route. Asked the owner of our home stay and he told that there is good road/tar road after
Tso-kar
. And the road diverts after 40+ kilometers from Korzok. I was just expecting not to get bad roads like the 25 kms stretch.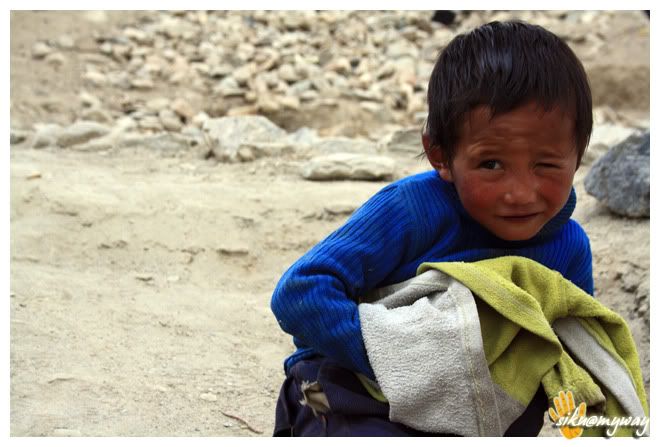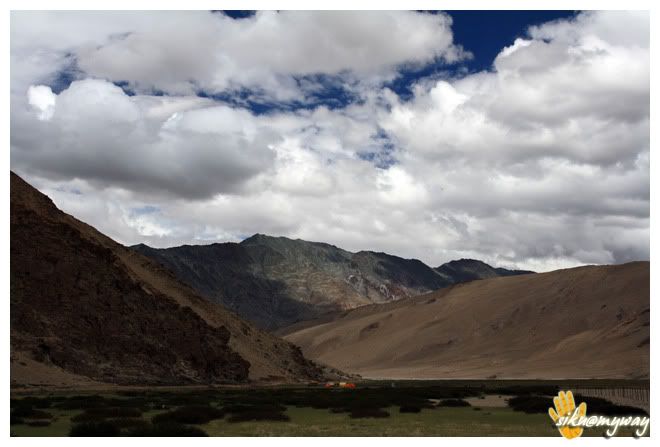 But the road was literally bad beyond my expectations. It was literary a task to cover 25+80 kilometers in
off-roading track
. There was everything on road, big boulders, dirt, mud, salt dunes, sand, rocks and even bushes. The road work is in progress and by next season we can expect
Pang-Tso Kar-Tso Moriri
tar route.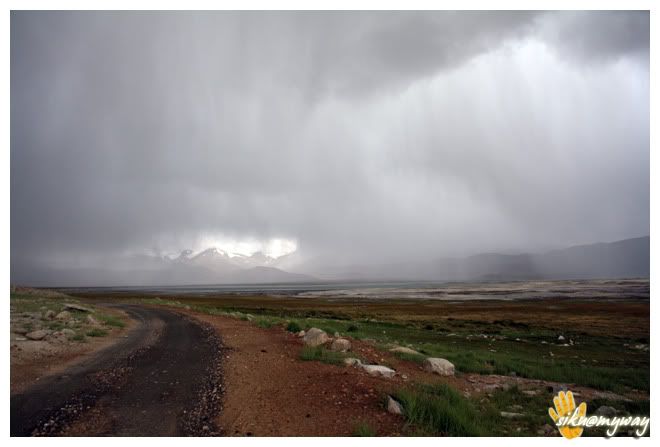 Some 20 kilometers before Tso-kar we were chased by rain. Though we were geared with rain suit and the luggage were also under rain cover, but we were afraid of the road condition ahead. Tso-kar was visible but there was no sign of road but finally we reached at Tso-kar village and from here the tar road started. Kind enough rain god poured all his blessings once we entered in to a tent-hotel for our lunch. It was 3.20 PM then and we were seeing human beings after some 70-80 kms.
One interesting fact here, there are total 20-30 houses in Tso-kar village and at that time there were only 3-4 people in that village. Asking about the others, the only dhaba wala, where we took shelter replied that all are shifted to Manali-Leh highway with their assets (sheep) to feed them. And every individual have more than 1000 sheeps/goats. I did not believe this until I saw them later.
Finally the rain slowed down and we decided to go further, we had to reach Pang. After 15 kilometers we touched Manali-Leh highway. The right goes to Leh and we took the left for Manali. The view after the rain was amazing. We were running short of time and had to reach Pang for our night stay so we took very less photo breaks. After it we entered More Planes, a 40 kilometer stretch at high altitudes. Again bad roads as the road construction work were in progress. Truckers made their own way in the planes and were zipping with dust trails.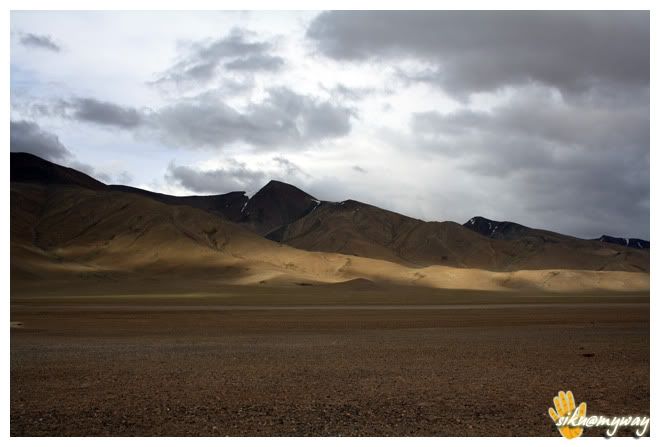 Finally managed to reach Pang at 6.40 PM and there were still some day light left so after arranging accommodation I wanted to return few kilometers back to capture some photographs but after dumping my luggage I noticed the front flat tyre. But there was a tyre repair shop in the front. So no photography as it was dark by the time got the tyre fixed. Finally the off-roading took its toll
.
Route
– Korzok-Tso Kar-Pang
Total distance covered
– ___ Kilometers
Road condition
- Bad
Event of the day
– Sitting at the shore of Tso-moriri, Off roading, Being chased by rain, Flat front at Pang.
Important places
– Tso Kar (small village, food and accommodation available), Pang (army camp, many tented accommodation, food and a puncture repairing shop)
Tourist interest points
– Tso-kar (wrong, every view was beautiful)
Precautions
– No petrol, No electricity, No puncture shop expect Pang.